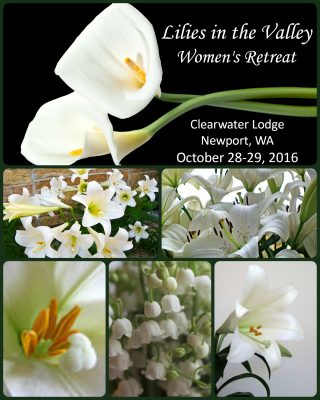 Lilies in the Valley Women's Retreat
October 28-29, 2016
Friday 3 pm to Saturday 4 pm
Clearwater Lodge at Davis Lake
Newport, WA
hosted by
SHAMMAH MINISTRIES & NANCY BENTZ, LIFE COACH
For an overview of the retreat and all the details, please visit here.
ARCHIVED / PAST EVENTS
"WRECK ROOM RENOVATIONS"
Begins soon on January 21, 2016! 
Who hasn't stood in a room at some time or another and noticed the undeniable need for an overhaul? For many women, that room is our own heart – shabby, worn, filled with clutter, or simply hardened  from living life. A heart in need of healing and the restorative work of God, the Room Renovator…
A unique 10-week study for women developed from the original writings of
Nancy Bentz, Life Coach of Shammah Ministries
 Thursday Evenings
January 21 – March 24, 2016
6:15 – 8:00 PM
$109 registration fee includes binder and all materials
FULL BROCHURE can be viewed here: HERE
LOCATION
 Shammahs Field LLC / Shammah Ministries Classroom
8606 N. Wall Street, Suite 201
Spokane, WA 99218
(NE corner of Wall Street & Country Homes Blvd)
 For more information, you may contact Nancy at
ncbentz@comcast.net or (509) 290-6810.
I'd love to have you join me 'in the workshop'!
SHAMMAH MINISTRIES & NANCY BENTZ, LIFE COACH 
is pleased to offer a
Teleconference Book Group
featuring the book by Jan Johnson
Abundant Simplicity
Beginning Tuesday, January 12, 2016 – CLASS CLOSED
the book group will run ten weeks to correspond with Jan's ten chapters.
Click on the titled link just below for the details. 
Abundant Simplicity Phone-in Book Group
Simplicity awaits you ~