Dear Christian – "I Told You So" ~ Jesus is a 'ten months and Covid-19 later' follow-up to a post I published before we knew what this year would hold.
At the end of January, I wrote and shared "Tell Them I'm Serious". The quiet but strong directive from my Writing Partner came early in the new year and packed enough punch that I knew better than to ignore it. So, I told you.
~
Several months and a whole lot of knowing later, I toyed with the idea it was time for another letter – if for nothing more than to bring the Dear Christian series to a close. Lacking inspiration, I turned to my sticky-noted stash of potential blog post titles. It had been months since I resorted to the drawer. Laying on top was a Hawaiian floral note page with "I Told You So" ~ Jesus staring up at me.
I marveled at how He has His way with the writing we do. He knows how to drive home His point.
Thankfully, dear Christian, Jesus is better at speaking truth than the unwelcome rebuke we all grew up hating to hear – "I told you so." Intoned with the right amount of smug and stinky, of course. However, truth is still true. Jesus is serious and yes, He told us so – in advance.
With a month and a week to the end of our Covid-crawl through 2020, I think the best use of my writing and your reading is to remind us Jesus gets the last I told you so.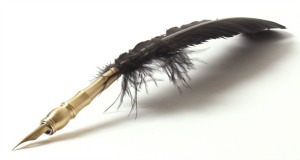 The other notation on that floral page carries as much Divine weight as when I heard, "Tell them I'm serious". It is the scripture found in Matthew 28:18, right before Christ spoke forth what we call the Great Commission.1
"All authority in heaven and on earth has been given to Me."
Having sent them on ahead, He uttered it on the mountaintop to His eleven disciples after His resurrection and before His ascension. That statement was the equivalent of an "I told you so" to the same ones who, before His crucifixion, did not want to hear His "I'm serious" – even as He was on His way to the Cross. A burial later, they figured out He was serious.
I rather think there was a twelfth one who heard His "I told you so" as well: Satan, His ancient nemesis, now defeated. The same one who took Jesus to a mountaintop to tempt him with possession of the world's empires. "Tell them I'm serious" concluded with "I told you so" ~ Jesus. He is no dusty Book. He is the final Word.
~
There is more than a coronavirus that will rise up. I pray it is us, dear Christian. Because as much as we all want to hear "well done", think of the sweet relief to wash over us when we see and hear our "I told you so" ~ Jesus.
~ Gracefully Free
1 Matthew 28:16-20
Photo Credit: Tirachard Kumtanom from Pexels │©2020  Nancy Bentz │Wellspring of Life