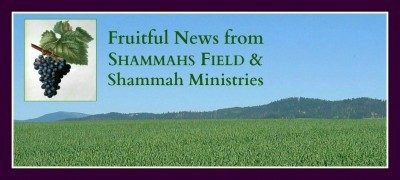 January  2017
Dear friends ~
Blessed New Year to you! To welcome another year on the calendar gives rise to the blessed hope that we are that much closer to the glorious appearing of our Lord Jesus Christ. (Titus 2:3) In the meantime, the 'field' still needs tending!
Five years ago this month we transitioned to working together fulltime in the ministries the Lord has called us to steward – Shammahs Field LLC and Shammah Ministries. We have been witnesses time and again of His faithful keeping of our lives and those with whom we work as we remain faithful to His calling and appointment.
Many of the things on our hearts related in our June 2016 newsletter came to fruition. Last September we availed ourselves of further training with Father Andrew Miller of HeartSync Ministries. In late October, I (Nancy) held my first women's retreat, Lilies in the Valley, themed around naming and processing loss. The Lord graced the retreat in myriad ways for which I had prayed.
By faith, I'm pleased to offer a Spring women's retreat May 5-7, to be hosted again at beautiful Clearwater Lodge north of Spokane. The theme is Desires & Longings – God's gift of becoming. A detailed brochure will be available shortly.
We invite and appreciate your prayer for us. We don't labor in isolation but as part of the Body of Christ where He has 'fit us together' in Him.
Gratefully ~ Wayne & Nancy
ENCOUNTERING A FALSE JESUS
by Wayne Bentz
It is not uncommon that while we are counseling individuals we encounter obstacles that make it difficult if not impossible for a client to continue in a certain area where they struggle. Recently, I encountered such an area with a particular client. The obstacle in this instance was an immense amount of fear.
This individual has a close relationship with Jesus Christ and we had invited Jesus to be present with them in the situation. Instead of bringing a measure of peace, the fear increased and the client began to panic. I was silently praying as this was unfolding. As I witnessed the increase of fear and the onset of panic, it became obvious that we had encountered a false Jesus. Dealing with a false Jesus is a matter of fact in working with hurting and broken people. After all, an imposter can remain present for long periods of time unless it is identified and dealt with.
It only took about thirty seconds to deal with the false Jesus once it was discovered. Immediately after telling it to leave, the peace I had previously hoped for came flooding in and began to calm, soothe, and reassure my client. We were able to overcome the fear and resolve the issue that we were working on.
I am at times amazed how frequently an imposter eg. a false Jesus, may be present in God-fearing, Bible believing, born again Christians. The damage that is done in their lives – sometimes on a daily basis – is astounding. Yet, I am keenly aware how few people that I have worked with truly know how to discern and deal with one.
In my work as a counselor it has been imperative that I know and understand the basic truths of God's Word. It is equally important that I remain in these same truths in my personal life. From this position, I give the Holy Spirit opportunity to speak, lead, direct and correct my life and how I work. The Holy Spirit often gives me a warning when I encounter an imposter, a deeply rooted lie, a demon or stronghold of darkness while counseling. That warning once given is not forgotten and requires investigation and appropriate action. It also requires looking deeper to discover where it originated in order to address any footholds or openings that exist.
There is a reason why a false Jesus has been allowed to be present. The first step is to expose the imposter, followed by addressing the reason it is present, and then sending the false Jesus away. In this manner, the person we are ministering to is able to receive healing, freedom, deliverance and instruction based in Truth.
Scripture tells us to beware of antichrist (false Jesus). 1 John 2:18 (MKJV) states,
Little children, it is the last time. And just as you have heard that antichrist is coming,
even now many antichrists have risen up, from which we know that it is the last hour.
People are in need of healing based in Truth that is founded in God's Word and paid for by the sacrifice made by the True Lord Jesus Christ. ▪
If you have any questions or seek counseling, feel free to contact us.