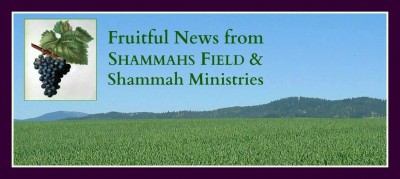 May 2014
Dear friends ~
How time flies!
When we weren't looking, the beginning days of Wayne's counseling venture into private practice headed into a decade of ministry. This June will mark his 10th year as a full-time biblical counselor & prayer minister!
Now we are in our third year of working together in the office suite to which the Lord unmistakably led us. We could not have asked for a place more suitable for the counseling, coaching, life mapping, writing, and classes that we offer. A sanctuary for us and for the many with whom we work in person, via Skype or by phone.
The Jehovah-Shammah window pane gracing one of our office walls reminds us daily that the Lord is so present. 
Our desire is to minister to those whom the Lord brings our way – whether by referral, a visit to our website, or Nancy's blog Wellspring of Life.
We serve as a resource to bring the healing and hope of Christ Jesus to many who are seeking help, healing, and answers for their weary and wounded lives.
When we come to mind, would you please pray for us as we labor in this field God has given us to steward? We appreciate the Lord's community so much.
Thank you for your subscription to our Shammahs Field newsletter. We appreciate your interest, prayers and support. Inquiries and referrals are always welcome!
May the God of all peace surround you with His love…
~ Mr. & Mrs. Shammah ~
P.S. Nancy's new coaching website will launch soon! Stay tuned for nancybentz.com. In the meantime, we invite you to visit our newly redesigned ministry website at shammahsfield.com.