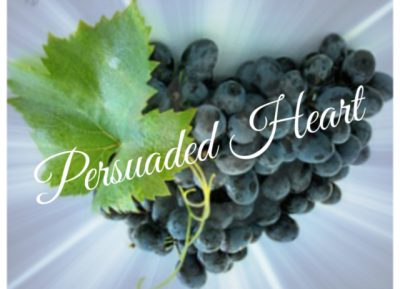 Dear Readers ~ Persuaded Heart holds potential as a new Wellspring series for 2021. We shall see.
What I do know is this persuaded heart continues to gather steam and substance. If I am coaxed by the Lord to write more of these missives, be forewarned they are not for the easily offended who choose to remain in that persuaded set of heart and mind. The Gospel offends unto Life. Those who choose life will find our heavenly Vinedresser on the job to produce a godly harvest of thirty, sixty, or a hundredfold. Wellspring helps with the watering.
Bubbling wellspring and hose in hand, welcome to Persuaded Heart. Stand-alone or yet more.
How in the vineyard does your heart grow? Persuasion is a subtle additive. About as organic as it gets since it comes from others' emotional soil and mixes with the soil out of which your own reasoning proliferates. The resulting fruit bloom of giver and taker is a dead – or alive – giveaway.
There is power in persuasion. And like a sunflower, your heart turns toward one of two lights: the faux glory of humanity or the ever-increasing glory of the Lamb by the effectual working of Holy Spirit in your heart, mind, and living of life.
Scripture tells us that out of the heart the mouth speaks, and that bitter and sweet cannot flow from the same spring. 1,2
If you think you can face both directions at the same time, you deceive yourself. Jesus and James said it is not possible.2 The result flows from what you are drawn to behold. And you cannot hide the evidence. The fruit tells.
So, what are you persuaded of and what do you give away?
~
In past writings, I wrote a coaching post entitled Fine Lines: Teachable vs Impressionable. It was penned out of what the Lord had impressed deep in my heart about choosing and keeping a teachable spirit. It was a holy seed planted in my soil, intentioned by the Vinedresser to grow by constant use – and by guarding my learning heart. (It's amazing what you can learn from Him when you determine to be teachable. And that by an act of your will).
I soon found that being teachable means you come to realize that Holy Spirit's institution of learning leans heavily on unlearning. Whatever has been built into our internal belief system through humanity's fleshly persuasion and our own mental thought processes, Holy Spirit sets about dismantling. With great joy.
We need His joy because it takes a lot of strength to withstand the demolition of anything and everything that sets itself up against the knowledge of God. Learning to "…take captive every thought to make it obedient to Christ" 3 is very much a spiritual warfare with spiritual enemies. God's spiritual purposes for our lives are the ante.
~
I believe that is why He instructs us to guard our heart –
"Above all else, guard your heart, for it is the wellspring of life." 4
Where we have not done so or failed to remember to do so, eventually the fruit flies abound. Something is either dead, wounded, or turned rancid through disobedient faith: the return on investment of persuasion doses to an unguarded heart.
There is no end to the cycles of the soil in one's vineyard heart. Being teachable affords Holy Spirit an ever-expanding field in which to work to accomplish the Father's will for our life. He the Teacher, we the teachable.
He is the Spirit of Truth, forming in us a heart progressively coming into agreement with the heart of the Father. The School of the Spirit is an apt description, for a persuaded heart becomes a lifelong learner in the Lord.
One of the key lessons is identifying where we are susceptible to persuasion that does not originate in Him.
All the things the world can offer to you—the allure of pleasure, the passion to have things,
and the pompous sense of superiority—do not come from the Father.
These are the rotten fruits of this world.
I John 2:16 (The Voice)
~
It is a new year, wellspring. The battles have not faded into the background. Nor has the narrative and the rhetoric that continues to ebb and flow like a salty sea of persuasion. How we need, more than ever, to have our thirst quenched and to wash our robes at the very Source –
The river of the water of life, as clear as crystal,
flowing from the throne of God and of the Lamb …
Revelation 22:1
~ Gracefully Free
I hope you read Fine Lines: Teachable vs Impressionable. It adds the frame for Persuaded Heart.
 1,2 the Gospels and James 3:9-12        3 II Corinthians 10:5        4 Proverbs 4:23