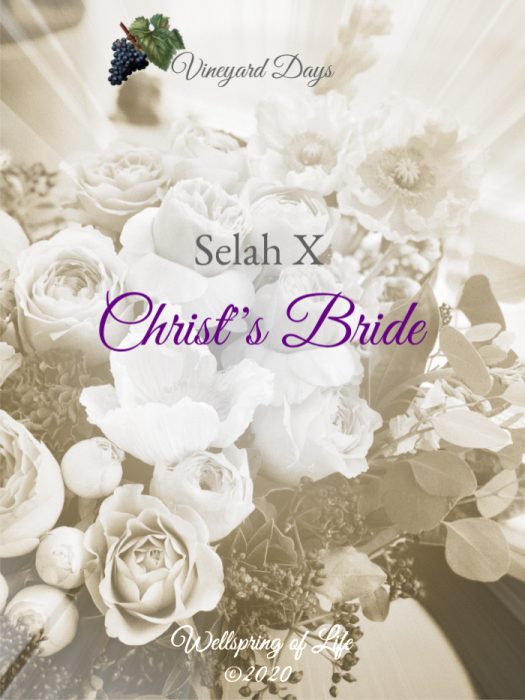 In the five weeks between writing Vineyard Days – Christ's Eden and this post: Vineyard Days – Selah X ~ Christ's Bride, I had a dream. It was three days ago at the time of this writing – during the Coronavirus pandemic sweeping our globe, notable for context.
Remember that Selah means a suspension in music; a pause to weigh and value. I find that while life as we know it has been put on pause, Holy Spirit has yet again shown impeccable timing for the next release in Vineyard Days.
As with other significant dreams shared in the past, I do not apologize for the length of this post. We have had ushered into the middle of our lives more margin than we've engaged for a long time. There is time to Selah, my friend, for Christ's Bride has been called (in order to) make herself ready.1
these present Vineyard Days …
I know we feel the reel of a globe seemingly tilted on its axis these days. There is a genuine push-pull to the limits of quarantine and the desire/necessity to care for others' needs besides our own.
Dear Shulamite, what is happening is not outside of Who and all God is. We who long to be ready have entered an exercise, not in futility, but in the reality of Jesus' baptism: with the Holy Spirit and with fire. Removing the dross, dispensing with what is not of Him, in order to fill us up with His very life, not a shell of perception born of 'emotional opinions and intellectual beliefs'.2 In that spirit of understanding, the dream draws on those with Shulamite hearts ~
"I was asleep, but my heart was awake." Song of Songs 5:2
The next two words the Shulamite uttered are "A voice!" In my case three early mornings ago as I write, it was a dream; even so, it was His voice that spoke. I woke knowing it was a message for Christ's Bride, but first needed to examine it regarding myself. Details and nuances Holy Spirit ministered intimately to my understanding are secured in my heart. Then my thoughts turned toward how He would have me share the message meant also for His company of Shulamites.
Over three days of holding it before Him, on the third day He inspired me with the pattern I love: spirit, soul, and body.
Now may the God of peace Himself sanctify you entirely;
and may your spirit and soul and body be preserved complete,
without blame at the coming of our Lord Jesus Christ.
Faithful is He who calls you, and He also will bring it to pass.
I Thessalonians 5:23-24
For the purpose of sharing the dream as it unfolded, the order is reversed: body, soul, and spirit.
Body ~ the flatbread of provision
Though I was in dream mode, the clarity of engagement and recollection began with a table set with brick oven flatbread. My husband sat across from me with a perfectly shaped, plump flatbread loaded with ample amount of crispy bacon clusters, a generous amount of cheese, and sprinkled with other flavorful finishing nuggets. The same version, flatbread 2.0, was placed at the head of the table. In front of me sat the same meal with the flatbread str-e-t-tched thin (unbaked and to the point of near holes), dotted with a meager amount of bacon clusters and tad bit of sprinkled cheese placed just so. It was a disappointing caricature of provision. It (silently) screamed less than, scarcity, skimpy!
I was tempted to swap flatbread, not with my husband, but the plate sitting at the head of the table. Even in the dream, though, I remembered I had already learned that lesson in my awake life (told here for an embarrassingly honest read). As that thought hit me, our hostess came and sat down at the head of the table. I was so relieved I had resisted the urge.
Soul ~ a muted garden of yesteryear and charred bird wings
The scene widened, showing the dining table set in what looked like a covered sun porch of a sizable, secluded garden. It was beautiful, filled with bushes and trellises, blossoming trees, and roses everywhere! The whole of it, however, was in pale muted white tones, no riotous symphony of color one would expect in such a garden. The muted white hue struck me as what yesteryear would look like if it were a color. The garden was by no means dead; rather, contentedly sleepy.
I then noticed I was holding the charred-black wing of a large bird and instinctively knew it had been in a fire. I wondered if it was an eagle's wing. Though from a large bird, it seemed too small for an eagle, but perhaps an eaglet. Aware of the sparse condition of the flatbread a moment earlier, I turned the charred bird wing over as I considered the state it was in. Underneath the wing was the most perfectly prepared meat like that of a chicken. A ready meal of which to partake.
Spirit ~ the veil of white roses
For a third time something was handed to me: a stunningly gorgeous white rose and floral veil three to four feet long. Real, fresh, living white blossoms – not replicas made of silk or fabric.
I held it with my fingers curled around the entwined wood vine that served as the headpiece to which the floral veil was attached. Turning it in my hand so I could see the fullness of the veil from behind, I gasped at how beautiful it was. Thick as a woven carpet, it flowed its length with exquisite, vibrant pure white roses. Wherever there might have been a gap, it was filled with the same pure white hue of other flora that pieced the veil into one seamless flowing drape of life.
I asked (presumably our hostess) where it came from and pointing, they said "there". No longer in the garden, I recognized I was in a yard from a past time. Looking in that direction, there stood a shrub as tall as a headless woman. Planted long ago, it appeared in the form of a gown made of the same white roses and flora as the veil I held in my hand.
The curve of the vine veil would fit perfectly where the head had been sharply cut off from the neckline with a jagged edge up one side. I was looking at a 3-D shell of the white rose gown, empty and in need of being filled. I remember hearing Jesus say with a strong and emphatic tone, "I Am the head!" (with a simultaneous knowing as opposed to our own or anyone else's head). In my dream response I cried out, "the Bride needs You in her to be alive; filled with You!"
Scripture flooded me. His many-membered body (us) of which He is the head; the mind of Christ; the life of Christ …. As did the realization upon awakening that He had used the dream to show me the current state of His garden, Christ's Eden. What heartened me most in this segment of the dream was that the muted garden roses and flora were on the edge of coming fully white and alive. Wherever Christ's illumination shone, the garden was awake and vibrant!
Post-dream reflection
There were immediate takeaways, some personal as I shared above before launching into the dream's scenes. Other elements that pertain to the corporateness of Christ's Bride were made plain. Still, understanding continues to unfold.
For now, I leave this with you to Selah the dream while I write a second part to this post. I also encourage you to read these posts from previous seasons of Vineyard Days: The House of Wine and Illumination. It all ties together ~
~ Gracefully Free
1 Revelation 19:7                2 Oswald Chambers
post-dream Part 2: Vineyard Days – Selah X ~ Christ's Bride, Part 2;
post-dream Part 3: Vineyard Days – Selah X ~ Christ's Bride, Part 3;
post-dream Part 4: Vineyard Days – Selah X ~ Christ's Bride, Part 4;
post-dream Part 5: Vineyard Days – Selah X ~ Christ's Bride, Part 5.
Photo credit: Secret Garden by Pexels