As of late, I've taken to preaching to the choir in my head, but that suffices only so long. Time for another letter, dear Christian, largely composed from the inability to keep quiet for an indefinite period. What then shall we say? That is the question.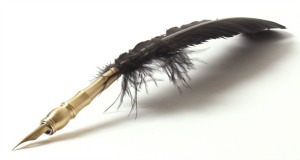 The answer in part is not a lack for words – or opinions that constitute those words. The answer begs another question: why say anything?
The disheartening reality today is that you're often chewed up and spit out if you do, and berated or shamed if you don't.
There is a decided absence of filter, respect for others, self-control, or giving a rip about anyone but moi's words. It is a nasty trick of our old nemesis the serpent with his double-forked tongue that strikes both ways.
One way or another, he would have us believe our voices are better off silent. If we're motivated to be mouthy and haven't learned to not only put but keep a cork in it, he'll provoke others to help us die to using our voice. If we'd rather be seen and not heard, he's cool with that. That way, he doesn't have to exert effort to rally forces to keep us shut down. Either way serves the purpose of keeping his own distorted narrative front and center.
Well, that doesn't work for me. And you're not called to making it work for you either, dear Christian. There is a better reason, a full of life reason, that stands outside the bookend constraints of his 'death to voice' game plan.
Romans 10:17 in the Amplified version tells us what the better reason is. Faith, that grows and keeps growing:
"…faith comes by hearing [what is told], and what is heard comes by the preaching
[of the message that came from the lips] of Christ (the Messiah Himself).
So, dear Christian, what then shall we say? Hold that thought and come with me for a minute to
the critical divide
Speaking of preaching to the choir, I remember back to when I sang alto in junior high, gospel quartet, and church choirs. Parts is parts, people (and the same analogy applies if you perform(ed) in a band or orchestra). There was a reason for choir practice! While the tenors were being tuned, the rest of us sat and listened, knowing we were not a tenor and were not going to be musically quizzed by being forced to sing the tenor part.
Likewise, for the basses, the sopranos, and the altos (although I can remember being enlisted with the tenors on a number or two). But that was not my norm, nor was second soprano. Give me my alto part and I was in sync. Put it in the key of G and I was in my sweet spot. The singing equivalent of 'running in my own lane'.
What we did not do was sit there and serve as the critical divide while someone else was practicing their part. We knew we had our own notes to learn, bloopers to hit, timing to syncopate, and distinct part to blend with the whole. And all for what purpose? To make music and take pleasure in the wonderful harmonies the parts in the whole produced. Before the parents in the school audience or the congregation in the pews ever heard the finished composition, we singers at choir rehearsal – harried and smelling like French fries – were the first delighted partakers of the glory of shared voices. To which I ask another question: what has happened?
We are living that question in real time. And real time requires growing our faith in ways we never imagined.
What then shall we say?
Considering the choir rehearsal story, I don't think it's that different for those like you and me, dear Christian, who desire to be true to what we know the Lord is asking of us. (If you don't know what the Lord desires you to be about, I suggest you ask Him. That tends to work when asked with a sincere and willing heart).
If you have a fair or even certain idea of what you are to be about, then how much more effective will using your voice in your own lane be? You nor I are a one-person choir. What part has God assigned you? He is more than capable of bringing our voices together collectively, but woe be to the nitpickers who won't find their own voice.
What then shall we say? is not license for laying in wait for the next words to fall off someone's lips or fingers while they're practicing their part. (Is it getting hot in here?) If you find yourself, dear Christian, poised for relentless verbal battle with certain people or certain topics, you have an issue to be worked through. If you choose not to deal with the spirit and emotions of why that is, don't be surprised at the physical coolness you may encounter. I don't care what 'wisdom' memes impart. We believers are called to feel God's heart. It isn't easy or painless.
And yes, I am preaching to the soloist in my own head.
"the message that came from the lips of Christ himself"
True confession: I can get cranky when I am overly tired (staying cranky is where Holy Spirit has my number and isn't afraid to dial it). It works that way internally too – and boy howdy, I am more than overly tired with all the opinions of who has a right to be silent or anything you say can and will be used against you (in a court of law or hey, social media and the internet works well too). The Enemy uses whatever is at his available disposal.
The only antidote I have found that works every time is building up my beloved self in my most holy faith (Jude 1:20). Which means growing my faith through hearing (or reading with spiritual ears to hear) the preaching of "the message that came from the lips of Christ himself." Since He is The Word, I can build up my faith wherever I choose to read in holy scripture.
It's not long before my voice has lost its cork and preaching to the choir in my head isn't cutting it. I need to weed my lane, rub the bunions on my hinds' feet, and recall that scripture tells me the one who would desire to teach, ie. preach to the choir, is held to a higher standard. What scripture doesn't tell me is to put a cork in it forever and ever, amen. He has given me, and you, a voice. What then shall we say? is about how we use it.
Practice is making perfect
None of this comes easily or quickly – for me or for you, dear Christian. However, one of the most necessary lessons Holy Spirit would have us learn in real time, is that giving ground to the Enemy by being an available resource for his critical divide is to hand him the music scores that rightfully belong to the Lord Jesus Christ.
What then shall we say? Perhaps we should begin with a heart of prayer for one another so we can sing together in faith, not mutter in cranky criticism. Faith positions us to receive the part fashioned for our voice.
Which, through practice, is making perfect day by day. See you at choir rehearsal.
~ Gracefully Free 
For more 'song' selections, feel free to browse the Dear Christian series ♫
Photo Credit: Tirachard Kumtanom from Pexels │©2019  Nancy Bentz │Wellspring of Life