Time for a story, dear Christian, about love buckets and joy bombs. The moral of this story: never underestimate the creative power of the love of God – in your life or someone else's.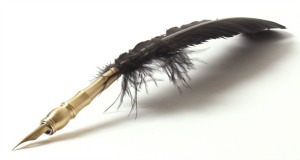 Many years ago I sat in a conference and listened to a story about God's love bucket dumped on an unsuspecting person; in this case, a woman. Conversely, it could just as easily have been a man.
She was described as one with defenses high and unyielding. All around her and held out to her were words of life and healing. She was invited to receive. Truth from the Word of God was being released to her. But oh, how she resisted!
She summoned every stubborn bone in her body to stand up straighter and stronger in her effort to defend against what she dreaded: the white flag of surrender. The problem was, her dread of what surrender would mean had been formed in thoughts of her own making. She had learned well how to pre-determine what might or would happen, as though she could predict the future. An angry unhappiness permeated her.
Dear Christian, take note that she was a believer. We may be too, and still resist as though God is not God.
What she did not know, tucked away behind her wall of defense – was that God knew beyond the dread, His love was waiting to enfold her. It was time to pour a love bucket over her.
her testimony
At this point, the story continued in her own words –
Her mode of transportation to and from the occasion where this occurred, was a bicycle. In this decided state of stubbornness, she hopped on her bike and began to pedal furiously, willing distance between her and the call for surrender. Death could not be a worse fate than this self-surrender of all she felt fueled her. After all, she was a strong woman! What she didn't account for was that she belonged to a stronger God.
As she pedaled, the wind came up and the rain came driving down aimed right at her. It took every bit of physical strength she had to not only make any kind of headway, but also keep the bicycle upright. As her anger grew, so did the wind and the drenching rain. Did she even know what she was really angry about, aside from the fact that she was soaked to the skin? It was easier to let it brew than to answer the question.
competing forces
Anger is a strong force, dear Christian. Jesus knew anger in His own life, but He did not misuse it. He overcame what caused him anger with the greater force of His Father's love. It was a choice He exercised.
When you are angry, don't let it carry you into sin.
Don't let the sun set with anger in your heart or give the devil room to work.
Ephesians 4:26-27 (The Voice)
In case you feel your hackles rising, note that it says "when you are angry." Provision is made for the very real emotions we experience. But also note we're told how to deal with it – "don't let …" , "don't let…", and "don't give the devil…"
Anger can be dealt with in the same day it threatens to overtake us. This is where the redemptive version of resistance is fleshed out. "Resist the devil and he will flee from you." (James 4:7)
hell on wheels
Meanwhile, our friend, feeling like hell on wheels, was fighting the competing forces of giving the devil room to work and the growing storm howling within and without her being. Until…
In the midst of the 'untimely' squall, the wet and clammy clothes, and hair plastered to her face, another drenching poured over her from head to furiously pedaling toes. A bucket of God's love, powerful and real, flowed over her. She wasn't asking for it. She wasn't looking for it. She was bound up in her stubborn anger. But she recognized it when it came.
He was not in the wind nor the rain. He spoke softly as He tipped over a still, small love bucket.
Love's creative force, stronger than anything humanity can conjure up, broke over her in waves of mercy, melting her defenses. Mingled with the pounding rain, long-held resistance ran out from her like a river of pent-up emotions as He soothed the savage beast of her angry, hurting heart.
joy bombs
A new emotion began to bubble up in her. Love's power, like dynamos of joy bombs, lit her up inside. Shrapnel from her now demolished walls was blown away in the wind. The way forward came into view. And Love was leading the way, hand in hand with her faith.
it's not The End
We are creatures trained to expect The End at the conclusion of a story, a movie, or a book. Since I'm partially about rattling our comfortable cages, I'd like to suggest – no, make that, proclaim – it's not The End.
We've all heard or read variations of this story enough times to recognize it is often just The Beginning. However, we can enjoy someone else's good, uplifting story and totally miss our own if we aren't careful. It needn't take a pounding, in-your-face wind and rainstorm to get our attention. But I know this much – God will use whatever is at His disposal to capture a stubborn, resistant heart. Not excluding love buckets and joy bombs.
In the end (which was His return to and our beginning of eternal life), Jesus fulfilled His mission on earth by surrendering up His very life. It was the biggest love bucket ever poured out for the entirety of humanity.
Now there's a love bucket with your name on it. And joy bombs beyond the dread of surrender. Who knew?
He did, dear Christian, so we can.
~ Gracefully Free
Photo Credit: Tirachard Kumtanom from Pexels
©2019  Nancy Bentz │Wellspring of Life