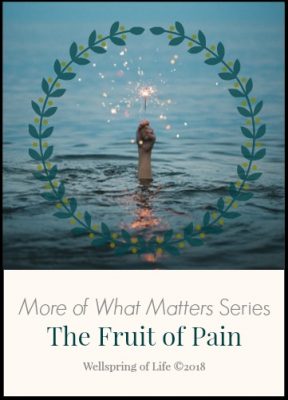 We like fruit – typically after someone else has done the necessary pruning. We don't like pain. Add them together though and we get more of what matters – the fruit of pain. Which is the equivalent of growing through the pain that pruning produces.
To some it's a high calling to demand fruit. Yep, that's how it works. Here, let me bring some pain into your life – you need some pruning. Yes, it can feel that way.
To others, the words pain and pruning leap off the page and send them off with the screaming meemies. Growing and produces never stand a chance of entering their consciousness.
And to still more, there is a sense that whenever pruning has occurred in their life, so too has growth.
They can appreciate, if not the painful and emotion-filled process that got them there, at least more of what matters – the fruit of pain.
Judging by the pruning cycle underway this season, zowie. I'm praying and trusting the value of the pain is worth a bushelful of ripe fruit.
greater blossom, bigger harvest
Elsewhere in my Wellspring of Life blog, there is a long-term spiritual development series entitled Vineyard Days. The pruning season and timing is described in the post Days of Reduction. Lo and behold, pruning is to be done every single year because grapes bear fruit only on the green shoots of one-year old vines. Seriously? Can't this be a one and done? 
Not when it's a process of design. The continuum of fruit → more fruit → much fruit requires ongoing processing and fine pruning. Fruit that remains is the valuable product of a pruned life lived well.1
If we talk roses, sure…we can leave them un-pruned and in a tangled mess. But the years rosebush pruning is skipped, there's a price to pay of less than on the other end when bud and blooming season reappears. So it is with grapes. Branches become loaded with green leaves but a scarcity of actual fruit.
Grapes or roses or any living thing – including our own hearts, thoughts, and lives – produce greater blossom and bigger harvest when we surrender to and embrace the painful pruning that grows us.
"Live in me. Make your home in me just as I do in you.
In the same way that a branch can't bear grapes by itself but only by being joined to the vine,
you can't bear fruit unless you are joined with me.
I am the Vine, you are the branches. When you're joined with me and I with you,
the relation intimate and organic, the harvest is sure to be abundant.
Separated, you can't produce a thing."
John 15:4-5 (MSG)
I'm not ashamed of my dependence on and need for strong connection to Jesus the True Vine, which is how He described himself in John 15. I know and readily agree that apart from Him my fruit would be slim pickings. He said the same thing to and about you by the way. You, like me, make your own choice.
In my own journey, I figured out that pruning produces pain and I could either come out the other side of the pruning process with still-gritted teeth, anger, bitterness or lots of other raw, unyielding emotions resulting in a hardened heart. Or, I could lean into the steady hand of the One holding the pruning shears and whether I liked it or not (I didn't), wince and squint my eyes tight and say 'Ok'.
I've come out more than ok each time I've endured pruning. I've come through with greater sensitivity in the newly sheared space, deeper understanding of God's motivation of love, and been witness to fresh sprouts of new life and growth as they have manifested themselves.
A key result of each pruning cycle is knowing I have not been the one to accomplish it. It's because I choose to be a part of the True Vine rather than apart from the True Vine. That has made and continues to make all the difference. His life flow enlivens me. And with periodic pruning, He ensures fruit follows.
the hidden blessing of pruning
There is plenty in our mind, will, and emotions that doesn't serve us well for bearing fruit. What is pruned in your life may be different than what the Vinedresser prunes in mine. But He works in love, hard as that is to believe at times. Submitting to the pruning process requires faith, sadly scorned by many.
I believe God, in His timing, moves to prune us in order that we begin to bear fruit. As we do, the hidden blessing of pruning is that He prunes our fruitfulness (usually with another "whuutt?? again?!") in order that we may produce even more fruit. If we hang in there with Him and don't shrivel up in distrust and unbelief, He'll continue the pruning process as cyclically He knows best to coax forth a hearty harvest.
If you fear that the humbling and exposure of the pruning season will prove you weak and see you taken out, that's a lie that couldn't be farther from the truth.
Pruning produces more of what matters – the fruit of pain. It is the breakthrough to abundant harvest.
You and I are not called to a perpetual life of pain. It has its seasons because we are called to bear fruit.
Don't let the pain of pruning snuff out your sparkler. The harvest will come by the faithful hand of the Vinedresser.
Gracefully Free 
1 John 15:1-2,5,8
You can read more in the More of What Matters Series
Photo by Kristopher Roller on Unsplash