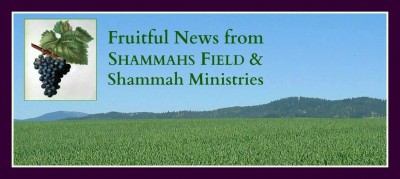 August 2014
Dear friends ~
What a hot summer we've had here in Spokane! Across Washington State, the land has been scorched with fires, and windstorms have left a swath of devastation. It has been a season of seeing the other side of 2014's year of double portion. The Lord is making known that His sword slices both ways. Without the wisdom and understanding of the Holy Spirit, it is sometimes difficult to discern what is blessing and what is God's justice.
This is why we encourage our hearts and yours with the words of Paul in Ephesians 6:17-28 –
"Take…the sword of the Spirit, which is the word of God. And pray in the Spirit on all occasions with all kinds of prayers and requests. With this in mind, be alert and always keep on praying for all the Lord's people."
For us personally and professionally, it has been a productive season sprinkled with periods of rest and relaxation. Wayne has managed a continuing full counseling schedule and I, Nancy, have been doing a fair amount of writing in between meeting with my own clients. And…the house got painted! No small feat in between windstorms and praying for still weather as Wayne sprayed. The Lord answered beautifully. Now for the finishing touches on the trim and she'll be nicely swaddled before winter.
~ Nancy
BITTER ROOT UNFORGIVENESS
Last month we referred to bitter roots and even began to identify them. This month I would like to define them and share why they are so significant.
We find this statement recorded in Heb 12:15: "See to it that no one comes short of the grace of God; that no root of bitterness springing up causes trouble, and by it many be defiled."
Unforgiveness is one of the most bitter of the roots we have to deal with in our lives and our personal walk with God. What makes it more bitter than the other bitter roots?  you may ask. We can be deceived into believing that just because we have said the words, "I forgive you," that we have actually forgiven, when indeed we have not even checked to see if our heart will allow us to forgive or not.
Forgiveness is a matter of the heart not the head saying, "I forgive you."
It is compounded by the fact that if we don't forgive we are not forgiven by our heavenly Father as Jesus declares in Matthew 6:14-15: "For if you forgive others for their transgressions, your heavenly Father will also forgive you. But if you do not forgive others, then your Father will not forgive your transgressions."
If you have stated the words," I forgive you " and find yourself talking to the person in your mind yet again and feeling the pain of what took place, you may not have really listened to your heart, sought God's leading and completed forgiveness.
An important key to completing forgiveness is understanding that the ability to forgive in many situations of life is a process – not a one-time statement, a declaration, or a frivolous whim.
If you find that your heart is struggling to forgive due to a life situation, please seek help in dealing with the bitter root of unforgiveness.
~ Wayne
We welcome hearing from you at 509.484.6334 or shammahs@comcast.net. Our ministry website – shammahsfield.com – provides additional information on how we can walk with you through the process of identifying / completing forgiveness.