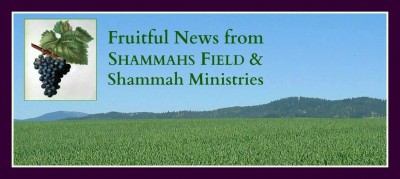 Dear friends ~
September was a beautiful month in the Inland Northwest of Washington State where we reside. Our favorite month, we set aside extra time to enjoy it while celebrating our 38th wedding anniversary last week!
For us, entering this season has annually been like entering our spiritual new year, even more so than January 1. Perhaps some of you may relate. We especially sensed it now as the Jewish New Year fell on our anniversary – and though we are not Jewish, all we believers are rich with Jesus' blood-bought heritage. We are watching, waiting, and praying into HIs finest out-pouring and leading yet, even as the world's hope dims.
ISHSHAH'S STORY
'Ishshah'
the Hebrew word for 'woman' in Genesis 2
September 2 was the launch date of Ishshah's Story, of which Nancy was invited to participate as a contributor and leadership/editing team member. A new blog site envisioned by Cheryl McGrath in Australia, Ishshah's Story is a collaborative effort of four women with a unified heart to support Christian women who have been marginalized because of their gender, in finding their true identity and calling in Christ. If you are interested, we invite you to visit the blog site and explore the many articles and resources available.
Ishshah's Story also serves as a hub of encouragement for women, with invitation to submit articles and stories of their own. The guidelines provide necessary detail. Though Ishshah's Story may not be a fit for everyone, we hold sacred that in Christ each one, male and female, is designed and purposed by Him to be His unique expression in the earth and Kingdom of God. Our heart is for many to be released into His freedom. If your heart beats similarly, we urge sharing this new blog with both women and supportive men. Thank you.
BITTER ROOT JUDGMENTS
This month we'll take a look at Bitter Root Judgments, bearing in mind our guiding scripture, Hebrews 12:15 –
Exercise foresight and be on the watch to look [after one another], to see that no one falls back from and fails to secure God's grace (His unmerited favor and spiritual blessing), in order that no root of resentment (rancor, bitterness, or hatred) shoots forth and causes trouble and bitter torment, and the many become contaminated and defiled by it. (AMP)
We all make judgments every day. The clothes we wear, the foods we eat or don't eat, what we do in our spare time. So what makes judgments bring forth bitter roots? Judging people who for some reason don't measure up to our standards.
God is very clear on this issue in Luke 6:37 –
Judge not [neither pronouncing judgment nor subjecting to censure], and you will not be judged; do not condemn and pronounce guilty, and you will not be condemned and pronounced guilty; acquit and forgive and release (give up resentment, let it drop), and you will be acquitted and forgiven and released. (AMP)
We also find that there is an immediate reciprocal effect of judging others found in Matthew 7:2 –
For just as you judge and criticize and condemn others, you will be judged and criticized and condemned, and in accordance with the measure you [use to] deal out to others, it will be dealt out again to you. (AMP)
This is an area of life that is not winked at, nor are we given a free pass. God says clearly what He means and He means what he says for a very good reason that is stated in James 4:12 –
There is one Lawgiver, who is able to save and to destroy. Who are you who judges another? (MKJV)
So if you find that you are judging others – repent; confess to the Lord; then turn away from the judging of others.
If you are unable to turn away from judging others, the bitter root is already in effect and it will require help to dig up and sever the root.
~ Wayne
Should you find you have no one readily available to help, we welcome hearing from you at 509.484.6334 or shammahs@comcast.net. Our ministry website – shammahsfield.com – provides additional information on how we can walk with you through the process of identifying and addressing bitter root judgments operating in your life.