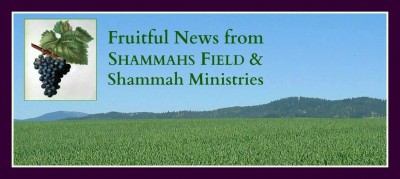 Dear friends,
October and November cycled through the calendar like a bicyclist peddling uphill for all he's worth! Now we've entered December and there's a Christmas tree at the top of that there hill…it's beautiful but we are not, ahem, quite ready. Like the preacher said, 'Everybody close your eyes and slip up your hand while no one's looking.' Yes, yes. Thank you. We see those hands. Some of you are not quite ready either 🙂 We don't feel so alone. Christmas is coming, ready or not!
I think the Lord at times takes joy in our expectancy over and above our readiness. His list is more about presence than presents; His gift than our giftedness; relationships than ribbons; real than faux. No amount of sparkle or brisk winter air will revive one's expectancy like His Word of Life to a humbled and contrite heart. If you wonder what meaningful gift you may give this season, may we suggest your heart, dear friend. Your humbled and contrite heart. It's the faultless gift that fits all sizes; the perfect posture to receive the Lord's promise of blessing…
For so says the high and lofty One who inhabits eternity, and His name is Holy:
I dwell in the high and holy place, even with the contrite and humble of spirit;
to make live the spirit of the humble and to make live the heart of the contrite ones.
Isaiah 57:15 LITV
We bless you with His promise to make live your spirit and heart, that your Wellspring never fail.
Merry Christmas and every blessing in Christ in the New Year!
~ Wayne & Nancy ~
NEW LIFE!
Our family received a very special gift in November. A first child for our youngest daughter and son-in-law and our third grandchild. Baby Cody arrived to welcoming, open arms on November 9. Grandma Nanc and Grandpa Wayne were present to share in his arrival. New life is such a   wondrous, marvelous gift. May you know deeply its wonder, whether in your arms or in your heart made live.
BITTER ROOT VOWS
This month we continue with our series surrounding bitter roots and the significance they hold in one's life. In previous articles we identified and began to define what constitutes a bitter root. We touched on the real and binding bitter root of un-forgiveness, bitter root judgments, and now turn our focus to bitter root vows. Each one of these is a wild offshoot of held resentment that the Word calls 'acrid poison' in our guiding scripture of Hebrews 12:15 in the Amplified (AMP) –
Exercise foresight and be on the watch to look [after one another], to see that no one falls back from and fails to secure God's grace (His unmerited favor and spiritual blessing), in order that no root of resentment (rancor, bitterness [Heb. acrid poison], or hatred) shoots forth and causes trouble and bitter torment, and the many become contaminated and defiled by it–
Bitter root vows are often in place because we bring them into being without realizing what we have done and how they are activated. Statements and comments can at times so easily be made, but do we remember what we have said? "I will never do _____again." "I swear you always do_____." "I never do that!"
Really? We rarely remember such statements one week after they are verbalized. What about one year later, let alone a decade or two or more? Obviously we forget, but does God? Or the enemy of our soul?
Let's look at what Jesus says in Matthew 5:33-37 in the Amplified (AMP) –
Again, you have heard that it was said to the men of old, You shall not swear falsely, but you shall perform your oaths to the Lord [as a religious duty]. But I tell you, Do not bind yourselves by an oath at all: either by heaven, for it is the throne of God; Or by the earth, for it is the footstool of His feet; or by Jerusalem, for it is the city of the Great King. And do not swear by your head, for you are not able to make a single hair white or black. Let your Yes be simply Yes, and your No be simply No; anything more than that comes from the evil one.
Did you hear that last statement? "Let your Yes be simply Yes, and your No be simply No; anything more than that comes from the evil one."
Friends, if you have bitter root vows springing up in your life, quickly turn to God in confession and repentance. Ask Him to guard your mouth and your mind. If you find you still have bitter roots evidenced by bitter fruit, please seek help in digging them out and severing those unhealthy roots.
~ Wayne
We are here to assist you with the process of accomplishing this necessary and holy work. You may contact us by phone at 509.484.6334 or email at shammahs@comcast.net. Our websites – shammahsfield.com and nancybentz.com – provide additional information and resources you may find beneficial through biblical counseling & prayer ministry, or life coaching and life story.