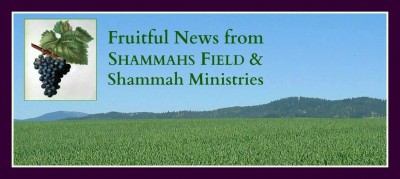 Welcome back to Shammahs Field! Spring temps are teasing. Even our lawns are sprouting green blades of grass. 'Tis the season, though, to keep our cotton T-shirt handy and our winter jacket handier as it's still a toss-up as to how long Winter will prevail over Spring! A thought somewhat in keeping with this month's article.
Please pray for Nancy as she speaks Friday evening, February 13 to 30+ women of Open Heart Chapel, a local body of believers in north Spokane. A full-course dinner (served by the men!) and special music will precede Nancy's message Written on the Heart: Your Story Matters. (So do your prayers; thank you!)
WHY WE DO THAT THING WE DO
Have you ever been in the middle of writing a letter, article or assignment and your computer, without warning, locks up? Have you started your computer and been busily working away on a project only to be suddenly faced with a blue screen? Have you ever ordered something online, wearily reaching the end of inputting details, only to discover as you near the order's completion that all your information is gone?
The computer has an Operating System (OS) that needs updates, can be corrupted, requires protection and can even lose files. If not updated regularly, properly protected from viruses and malware, or thoroughly cleaned when it has been corrupted, it won't be long before the issues affecting it reappear.
If you have experienced any of these scenarios, maybe you can relate with this month's topic:
There are many instances in life where we experience something similar in relationships – with family members, coworkers, friends, neighbors or other Christians, to name a few.
We can be in the middle of having a great day when all of a sudden we realize things are not going well. Either with the other person, ourselves, or both. When our sin nature or someone else's sin nature – like a computer's corrupted operating system – kicks in, things often come to a screeching halt.
• The conversation we thought was going well locks up without warning. What otherwise wouldn't have been said (we reason) comes flying out of our mouth. Or theirs. Or both.
• The investment we've been busily making in someone else's welfare is unexpectedly met with the blue screen of death of the relationship, or disagreement, misunderstanding, departure or silence. What happened, we wonder? Then we set about re-naming the blue screen with every colorful name we can think of.
• We've been so careful to input all the details, perfectly. We're convinced we did it right. So where did all that information go? How did all our efforts seemingly disappear into thin air?
Paul expressed the dilemma quite well. Looking to God's Word we read:
I know that nothing good lives in me, that is, in my sinful nature. For I have the desire to do what is good, but I cannot carry it out. For what I do is not the good I want to do; no, the evil (worthless, of no value) – this I keep on doing. Now if I do what I do not want to do, it is no longer I who do it, but it is sin living in me that does it. (Romans 7:18-20 NIV)
Paul understood that our sin nature is a force that must be reckoned with and conquered. Sin kills life, including life in relationships. When it is not dealt with, it will conquer us. This is a process and a battle that we either enter into willingly or its relentless persistence overcomes us. Mercifully, Christ made a way for us to overcome rather than to be overcome.
By His death on the Cross, Jesus paid the price for our sins; they are forgiven. As long as we have breath, though, our sin nature can raise its head at any time and we can knowingly or unknowingly enter into sin.
Continuing to live out of our sin nature is akin to our illustration of a computer's OS. The files of sin are cleansed and erased by the blood of Jesus, but it is our task to bring our sin nature to the Cross to deal with the source of the sin, just as we would with our computer and its devastating malware.
When we sense the old sin nature raising its ugly head in our life, our best response is quickly taking it to the Cross. If it seems to follow us as we come away from the Cross, we must recognize there is a reason for this and return to the Cross. Here is where our sin nature dies. Here is where our life is changed into the image and likeness of Christ. Here is where overcoming is made real and Christ becomes our Operating System.
~ Wayne & Nancy Bentz
We're here to help you with your spiritual OS.
Contact us today – Geek Squad for God!