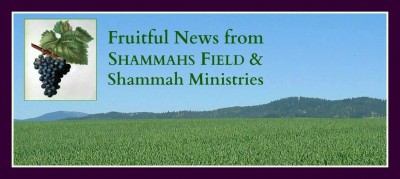 Dear friends ~
Here at Shammahs Field, we'd like to take this opportunity to wish you a blessed and healthy – inside and out – 2015! We have heard reports of many caught in the winter flu season and others who, in 2014, have experienced loss, hardship and difficult health journeys. May the Lord's healing touch be evident in your body; His fingerprints impressed upon your circumstances.
The busy schedule of the fall season, the holidays, calendar year-end push, and simply the toll of daily living requires a sustaining strength that is not to be found in our efforts to do more or less; re-shuffling the deck one more time, which may invariably lead to 52-card pickup; or opting to unplug from engaging in life.
Our prayer is that the Lord's joy – yes, HIS joy – when yours is running on a tiny tank – will be your strength in the days, weeks, and year ahead. (Nehemiah 8:10)
WORKSHOP COMING UP!
Saturday, January 24 / 9:30 am – 2:00 pm
Facilitated by Nancy Bentz
Shammah Ministries classroom / Spokane
Click the link for all the details:
My Life Now…with a view toward living life forward
I hope you'll join me in this half-day workshop
• for an opportunity to purposely come aside
• to engage in thoughtful processing of next steps with helpful practical and spiritual tools, and…
• to regain your perspective and equilibrium, while celebrating community with others
A great way to remember you do not journey alone!
HELP WITH THE 'Field Work'
One of the reasons the Lord called Shammahs Field / Shammah Ministries into existence is to help equip His body of believers with life-giving tools proven to fortify our hearts so we may welcome His sustaining strength. Otherwise, there is apt to be little joy in the journey.
David said in Psalm 51:12-13 – "Restore to me the joy of Your salvation and grant me a willing spirit, to sustain me. Then I will teach transgressors your ways, so that sinners will turn back to you."
It was after his grievous transgression with Bathsheba that the Lord sent Nathan the prophet to David. Nathan knew the truth, if not the specific details. In obedience to the One to whom he was held accountable, Nathan spoke the truth to David in a parable, in his hearing.
Two things were made evident that day:
1. Nathan was chosen by the Lord. So was David.
2. It was when they were brought together by the Lord that the turn of their respective hearts was revealed.
You see, in order for Nathan to walk out in actuality what he was allowed to have knowledge of by the Spirit of God, he first had to have wrestled with his own issues of self-identity, pride, fear, and self-will.
How he walked it out was what gave away his heart. Nathan had to have overcome and continued to walk an overcoming life in order to deliver such a message to David so the Spirit of the Lord might impact his heart.
Likewise, the turn of David's heart was revealed when, upon hearing the truth from Nathan, he softened before the Lord. He recognized and confessed it was the Lord himself against whom he had sinned. (Psalm 51:4)
The result? Three outcomes that stand today:
1. Restoration of the joy of God's salvation (salvation also means righteousness – right standing before God) is the first step toward being sustained.
2. In order to be restored to joy (and grow in possessing the ability to return to joy again and again), we simply need to ask the Lord to grant us a willing spirit. He will.
3. Both Nathan and David knew what was required. They received it, evidenced by their life. It is why David prayed as he did, "Then I will teach transgressors your ways, so that sinners will turn back to You." He understood the Divine order of first this, then that.
This is what brings great joy to the Lord's heart. Then He turns around and strengthens our frame with His joy!
~ Wayne & Nancy Bentz
We are here to assist you with the process of accomplishing the holy work of inner healing and developing a life of obedience to the Lord, which leads to righteousness, peace and fruitfulness.
You may contact us at 509.484.6334 or shammahs@comcast.net
shammahsfield.com and nancybentz.com provide additional information and resources you may find beneficial: biblical counseling & prayer ministry,life coaching & life story.