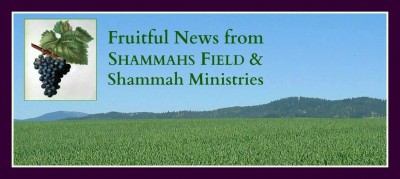 July 2014
Dear friends ~
It is so good to be in the middle of summer. Fresh fruits and vegetables are available in abundance. Warm temperatures and sunlight are plentiful. But so are the weeds and all the work associated with being a homeowner.
BITTER ROOTS
As I counsel in my office I also notice there are a lot of weeds growing in peoples' lives. And a lot of bitter fruit that requires digging up the roots and cutting them out in order that there is an end to the bitter harvest. Many have the soil of their hearts packed down firm. This requires breaking up the hard soil before any good seed can be planted. In the meantime, the weeds grow in abundance.
This is work that must be done and like weeding your garden or flower beds, there is no shortcut to weeding or removing bitter roots from your heart and life. Many want to take shortcuts. Many claim there is a faster way. Many refuse to do the difficult job. It is tempting to pour the chemicals on to kill the weeds, but it taints the soil and if ingested through the food grown in the garden, can make you sick. So too will it make your heart sick if placed in the soil of your life.
Bitter root judgments, bitter root vows, bitter root expectations, and bitter root unforgiveness must all be dealt with in the same manner – digging and cutting the roots. No shortcuts. No quicker, more efficient way to address the problem. For if you choose to ignore the weeds and the bitter fruit, it will take over your garden, your field, your heart and your life as well.
The beauty of a well-tended garden is evident and easy to identify. So is the beauty of a well-tended life. My prayer is that yours is being well-cared for so that you may enjoy harvesting abundant fruit.
~ Wayne Bentz
P.S. If I may be of help with the weeding and root work needful for a healthy life, I welcome hearing from you at wdbentz@comcast.net or 509.484.6334. Our ministry website – shammahsfield.com – also provides more helpful information and detail.