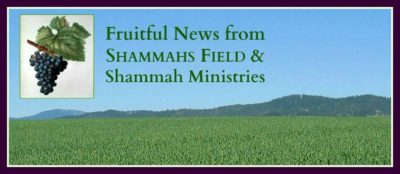 Dear friends ~
Welcome to our new feature: Shammahs Field Weather Report – seasonal at best 🙂
In our last newsletter we brought you Autumn 2015. Shortly thereafter the mother of all windstorms hit and ransacked our fair city and our neighborhood, yet the Lord protected our domicile for which we were most grateful. However, the non-damaged mess called our names every time we pulled in the driveway.
We survived Winter 2015-16 without a newsletter weather update. It was a time for family, another blessing for which we were grateful, sprinkled throughout the week in, week out schedule here in the office, aka 'our field'.
Then we blew and rained our way through Spring 2016 with early blossoms everywhere and some summerlike weeks in March and April. Nancy ran two book groups and a wonderfully blessed Wreck Room Renovations class – each group and class ten weeks long. Followed by a 3300-mile road trip in just under a week and – whew! Between family and the family of God, the newsletter drew the short straw.
Now we've arrived at the longest day of the year in the northern hemisphere – Summer Solstice and June 2016. The month is already blitzing by, but you never know what the tide will float in … like a newsletter from the Farmers Bentz and a blessed reason to celebrate!
Earlier this month Wayne chalked up his twelfth year of private practice in biblical counseling / prayer ministry in his accumulated sixteen years of counseling. All these years we have not advertised or marketed in any great capacity the ministry offered through Shammahs Field LLC. The Lord and word of mouth has been our advertising and Wayne continues with a full, varied, multi-country counseling clientele.
We have now been together in our second-floor office suite for nearly 4-1/2 years. In September it will be five years since I, Nancy, started with my first coaching client shortly before I transitioned from employed to self-employed in Shammah Ministries. Working with individuals in faith-based life coaching continues to bless my heart as I witness what transpires in ones seeking to live life forward in the Lord.
September brings with it another milestone for Mr. & Mrs. Shammah – our 40th wedding anniversary! In ways no one fully comprehends, Shammahs Field / Ministries exists because of the heart of love Abba has for these two 'kids' of His. We are here because of His faithfulness, grace and mercy. Then lo and behold, He asked us to pay it forward even as He continues to shape, grow and deepen us. As has been our habit, we are leaning in closely to know His continued direction and preparation for next steps, even as we hold steady with the ministry at hand for this season, however long, to which He's called us.

Over the course of the next several months, some of the things on our hearts include –
Some new, specific training to expand and enhance the biblical principles we use in counseling and working with others – with desire to be first partakers ourselves
Wayne's consideration of taking a group to a men's camp that focuses on material surrounding negative influences that affect males in the church
Nancy's first offering of a retreat for women, featuring life story and the listening tool of selected life maps
Times for a Gathering for worship and a present word of substance from the Word
Balancing both counseling and coaching schedules in responsiveness to the Lord's heart
With these and many other things on our hearts and minds, we invite and appreciate your prayer for us. It is for you and countless others the Lord has called us to witness to His heart of healing and wholeness. To that end He continues to meet us with His enabling grace, fill our lack with His fullness, and equip us with the power of his Holy Spirit. Thank you for being part of this grace-filled journey of ministry to many hearts.

– We would love to hear from you if we may be of help to you, friends or family.
– Referrals are welcome and appreciated.
– Inquiries about any of the offerings available or those listed in this newsletter are invited.
– Last but not least, our two websites provide more detailed information about what we offer. We encourage you to visit them and/or send others to our websites if you think our services could benefit.
With peace and grace,
~ Wayne & Nancy
PS – One way you may help is by making a gift of any size to our Shammah Ministries scholarship fund. It is held for the purpose of enabling ones of little means to receive the counseling or coaching they need in their journey toward healing, wholeness and living of life.  We appreciate your prayerful consideration and joyous gift as the Lord directs.
We maintain the right to consider/determine valid need or subsidy, if any, on  a case by case basis.