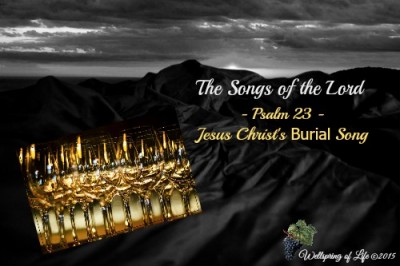 Was there ever a more beloved Psalm than this?  From the memorization of it in one's youth to the comforting recitation of it at one's deathbed, the 23rd Psalm has refreshed and restored the courage of many a tired, needy, frightened, threatened soul.
Reading David's psalm at such times is like taking a swallow of heartening words and rolling them around in one's mouth. Savoring each syllable of promise, each phrase of truth. Drinking hope itself. Yet –
Before we ever owned it as our psalm, it was a prophetic song of another. The Song of the Lord.
When we consider the full Gospel of the cross, the grave, and the resurrection and ascension of Jesus, there is also a fullness to what He accomplished of which we barely scratch the surface. Many have written long; others have looked deeper and studied well. But like a diamond held to the light, the Word contains facet upon facet of illuminating truth whose revealing comes in times and seasons by His Spirit.
I'd like to share with you one facet – perhaps new to you, perhaps known – worthy of reflection as we consider our identification with Jesus in this place of the Son's worship. As you read Psalm 23, here in the Amplified version, read it not this time for yourself but as Jesus himself singing this hymn of praise – as His burial song.
Psalm 23:1-6 (Amplified)
A Psalm of David. THE LORD is my Shepherd [to feed, guide, and shield me], I shall not lack.
He makes me lie down in [fresh, tender] green pastures; He leads me beside the still and restful waters. [Rev. 7:17.]
He refreshes and restores my life (my self); He leads me in the paths of righteousness [uprightness and right standing with Him–not for my earning it, but] for His name's sake.
Yes, though I walk through the [deep, sunless] valley of the shadow of death, I will fear or dread no evil, for You are with me; Your rod [to protect] and Your staff [to guide], they comfort me.
You prepare a table before me in the presence of my enemies. You anoint my head with oil; my [brimming] cup runs over.
…only goodness, mercy, and unfailing love shall follow me all the days of my life, and through the length of my days the house of the Lord [and His presence] shall be my dwelling place.
You may think to yourself, "How can one sing to themselves when they are dead, buried in the grave?" Indeed. The answer to that is the eternal difference between those who have died with Christ and those who choose not to accept His gift of the fullness of the Gospel and co-survive with Him.
David in his musing in Psalm 49:14 tells us that for the foolish (who have no desire and no felt need for redemption), Death is their shepherd. The first thing Jesus declared was the establishing of THE LORD as his Shepherd. From that settlement in His heart, out of which He spoke, flowed His song of worship to THE LORD, His Abba who though He hid His face for a time, never left His beloved Son, even in death.
As we choose to identify not in word only but in very heart with the Son's worship, first at the cross and now in the time of burial, so too will our song of praise flow to the One who never leaves or forsakes us.
There is no doubt Jesus died. He tasted death for us all. But in the hidden away place of the grave, Jesus was very much alive. Hell's dominion was suffering at His hands as He strode through its darkened realm and took away the keys to death, hell and the grave.
That is His victorious gift to us as we identify with Him. Though we walk through the valley of the shadow of death, the truth is that Jesus secured our life! The shadow has no power, no strength, for where there is a shadow, there must be light. Can you see Him standing there in all His glory holding high the ring of keys, sure evidence of our secured victory? He is our Dread Champion!
Now, the best part of His burial song, for its richness is also the testimony of those alive in Christ:
While being obedient to His Father's will, Jesus' Abba had prepared a table for Him in the presence of His enemies. In the midst of hell, they could not touch Him but had to stand restrained and watch as He was fed and anointed with blessing and favor as the Lord Most High. The man Jesus who hung on the cross had now stepped into the fullness of His office as Jesus the Christ ('Anointed One'). No demon horde in hell could interfere with nor deny what was taking place. Oh the power of His Song ringing through thick darkness!
I love the picture in the original Hebrew of the Father setting in a row, arranging, putting in order a spread table, a meal to consume for the purpose of sending away, shooting forth, sowing, stretching forth, spreading out. Identifying with Him, we eat of His Word and drink of His cup to take in substance for the purpose of being sent away into regions of darkness to sow and shoot forth His light and life in the midst of a hungry and thirsty, dark and dying world. Often, the most substantial repast He prepares is set and arranged for us right in the thick of our fiercest enemies, both inward and outward. He holds them at bay that we might eat and drink deeply of Him.
Then, Jesus' concluding description of His faithful Shepherd's ministrations in the place of His burial. When the women came to the tomb to anoint Jesus' (missing) body with oil, little did they know what had been taking place in His resurrected life in the midst of death, hell and the grave. His Abba had already done the honors of removing the ashes of His sacrifice and rubbing into His head the oil of richness and fruitfulness signifying Him chief among men, priest and ruler of all.
As we humbly and obediently identify with Him even in the place of burial, our old man is consumed. The very ashes of our sacrifice are removed as our head is anointed with the oil of the Holy Spirit. Then we too may sing with Him that our cup fills (refilling continually as from an artesian well) and runs over.
"Only goodness, mercy, and unfailing love shall follow me all the days of my life, and through the length of my days the house of the Lord [and His presence] shall be my dwelling place."
Now. Today. And Forever.
What a beautiful benediction to the burial song of Jesus Christ, the Anointed One.
~ Gracefully Free
Join me next time in celebration with Psalm 24 – Lord Jesus Christ's Resurrection/Ascension Song
Previous posts surrounding The Songs of the Lord include the Introduction and Psalm 22 – Jesus Death Song. All three Psalms together establish the full Gospel of Jesus' death, burial, and resurrection/ascension, with each Song contributing its part to the whole.
The Word is like a garland fitly joined together. May its truth be woven for you through these passages:
Romans 6:8; Galatians 2:20; Psalm 49 noting verse 14; Hebrews 2:9; Luke 6:45; Revelation 1:18; Jeremiah 20:11; Romans 10; John 6:53-57; Mark 16; italics indicate Strong's notations
Recommended reading: A Shepherd Looks at the 23rd Psalm by Phillip Keller
photo credit: The Cotton Mountains I via photopin (license)
photo credit: Tonight's Lineup via photopin (license)
Shammahs Field LLC/Shammah Ministries is the biblical counseling, life coaching, and spiritual growth ministry entrusted to Wayne & Nancy Bentz. You can learn more about the resources they have to offer at shammahsfield.com and nancybentz.com.