Whatever Girls began with a pair of shoes.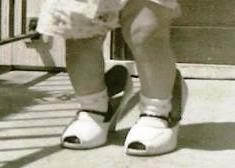 Judging from my baby picture, I was a Whatever Girl when my dear friend and cohort, Erin Bishop, was still just a twinkle in God's eyes. (Never mind our age difference!)
I've often said, "The Lord never wastes anything in our lives." Not a toddler's penchant for getting into her mother's closet and shoving chubby little feet into her high heels. Nor years later, the stories of two coworkers who had worn a variety of shoes throughout their lives. Some that pinched, some that shamed, others long worn out. Dutiful shoes, adventurous shoes, and ones schlepped around in on our blah-ful days. For us, His 'no waste' policy proved true…
…when one April afternoon over lunch Holy Spirit leaned forward in the booth with us and in less than an hour the "Shoes" retreat (October 3-5, 2008) was planned. We returned to work with tummies full of bacon (well, I did – for Erin, it was likely hash browns as our signature lunch was breakfast!) and our hearts and minds whirling with our respective retreat assignments over the next six months.
I relate this bit of nostalgia for it was at the If Shoes Could Talk retreat at Erin's family lake house that Holy Spirit ministered deeply and specifically to each of the twelve women present, including Erin and me. A holy moment caught by Kodak, below is witness to the seed-planting of Whatever Girls.
The rest, as they say, is history. Five years and five days later, you are reading this blog post that is a testimony to God's great grace (in the Bible, five is the number of grace!). His grace to Erin and me. And like a rock thrown into the middle of the lake making ever-widening circles, His grace to mothers and daughters all around the United States and overseas.
Today, Whatever Girls – founded by Erin not too many months after the retreat – has grown from her and her then-elementary age daughter and a handful of school friends and moms, to a team of supporting and supportive contributors of approximately thirty women and men who reach moms and daughters in many different places, through many different venues including speaking engagements, books, blogs, the Whatever Girls website, online prayer groups, etc. Where there's a will to reach this prime audience of mothers and daughters, Erin and the Whatever Girls continues to find creative ways!
NOW FOR THE BEST PART!
What could be more fun and rewarding after five years of hard labor than to celebrate God's goodness with a whole bunch of mothers and daughters from all over gathered together right here in Spokane?!
Whatever Girls Live 2014 Conference is a dream coming true for Erin and the rest of us whose hearts are engaged with this movement of raising intentional and godly moms and daughters devoted to God. It is my privilege to also be one of the featured keynote speakers at this April shindig!
Wanna Come?  (Of course you do!)  Here's the Info:
What is this?  A conference for moms and teenage daughters to come learn about Jesus, learn about themselves, each other, and what amazing things God can do in their relationship.
Where is this?  The DoubleTree Hotel located in downtown Spokane, Washington.
When is this?  April 25-27, 2014
How much is this?  Early Bird (before 10/31/13) tickets for a mother-daughter team is $299.  Each additional daughter is only $125.
Have more questions?  Want the FULL scoop?  Come visit Whatever Girls' site by clicking here.
BUT WAIT…THERE'S MORE!
Over the next six months until the April 2014 conference, other Whatever Girls blog contributors are featuring similar articles on their personal blogs to get the word out to as many as possible. Click on the Rafflecopter link below for your chance on "Wellspring" to win the Whatever Girls Live Blog Tour Giveaway Basket! Abundant with goodies for mothers and daughters, the basket giveaway ends at midnight EST on April 7, 2014.
Please SHARE this with the moms and daughters in your circle of life and influence. More than a bright idea…Whatever Girls is a movement!Raising up godly mothers and daughters to the glory of God. Amen to that kind of 'field work!'  ~ Nancy Charlene aka Gracefully Free
Shammahs Field LLC/Shammah Ministries is the biblical counseling, life coaching, and spiritual growth ministry entrusted to Wayne & Nancy Bentz. You can learn more about the resources they have to offer at www.shammahsfield.com.