There's a lot of housecleaning been going on, Dear Christian ~ I think it safe to say not a day goes by without an article here or a newsflash there exposing those who hold to have broom, will sweep under rug.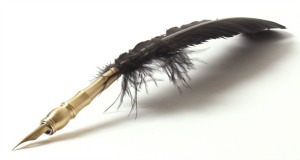 There is no stain so red as the crawl of embarrassment and shame when caught with the broom in one hand and a lifted rug in the other. It's worse than getting caught with your hand in the cookie jar; a relatively minor infraction with the sweet reward of sugar and a few less green beans at dinner time.
Have broom, will sweep under rug signals a mental repository of secrets you would never want uncovered for public consumption. (There are times I wish some would learn the difference between public and private, but that's another issue). We live in the days of exposé, dear Christian.
As did Jesus, who lived those days full of grace, mercy, and truth. Same thing Believers are to grow into now. Did He do it without ever becoming upset? No. Or full of righteous anger? No. Tired? No. But as Who He is? Yes.
Who Made Jesus Maid Jesus?
Some of you may be familiar with a TV commercial featuring Flo of Progressive Insurance fame. The ad is comprised of several retro family scenes with her repeated emphatic one-liner:
"I'M NOT THE MAID!"
I can picture Jesus commiserating with Flo's evident frustration. No one seems to care about misidentifying her. And she might as well be speaking Swahili for the lack of apparent listening to, or better yet, hearing her. Jesus had His moments when the final straw broke the broomstick. Let's look at one of them from Luke 19.1
The chapter details Jesus' instructions to his disciples while drawing near to Jerusalem for Passover – the celebration ahead of His week of passion and suffering.1 But, before His passion came His tears of authority:
When he came near the place where the road goes down the Mount of Olives, the whole crowd of disciples began joyfully to praise God in loud voices for all the miracles they had seen: "Blessed is the king who comes in the name of the Lord!" "Peace in heaven and glory in the highest!"
Some of the Pharisees in the crowd said to Jesus, "Teacher, rebuke your disciples!" "I tell you," he replied, "if they keep quiet, the stones will cry out."
As he approached Jerusalem and saw the city, he wept over it and said, "If you, even you, had only known on this day what would bring you peace—but now it is hidden from your eyes. The days will come upon you when your enemies will build an embankment against you and encircle you and hem you in on every side. They will dash you to the ground, you and the children within your walls. They will not leave one stone on another, because you did not recognize the time of God's coming to you."
Flo may be an insurance agent – but Jesus was the Messiah come to His own people. How great must have been the sting of rejection in His humanity, knowing who He was and that He came for them. Still, He spoke. I believe for the benefit of those who would have ears to hear. Such a Man of grace for all or just that one!
His next stop in the midst of deep sadness was the temple, where He overturned the tables in front of their very eyes. If they wanted to reduce Him to the maid, then He would provide them a reason for needing one.
Please hear me. I am not suggesting we resort to less than godly human reactions and behavior while we claim to be acting 'like Jesus did'. There is no quicker way to be caught with have broom, will sweep under rug. We aren't that good at hiding the lumps under our personal carpets. Surely not from this same Jesus, our Messiah.
Progressive Emotions 'like Jesus had'
Let's look again at the progression of Jesus' emotional wherewithal. We can learn a thing or two or three…
First – He wept, because they did remain blind even as He stood right in front of them, misidentified and unheard. They were too busy polishing the silver and the stemware of their outward appearance for the liking of man, than to be concerned with what they thought to be hidden under the rug inside.2 If Jesus had tried to stuff, ignore, or deny His state of feeling, He would have dissipated the internal resources He needed to draw from for that which was yet to come. Victory, yes. But first, the war.
Next – He didn't clam up but said what needed to be said in that time and place and circumstance. He told them the truth before. Before anything of which was yet to take place occurred. Some may call it 'warning'. I call it absolute love of the One who knows what is coming but is also the Answer to it all. If our 'warnings' and 'love' don't point right back to Him, we're simply messing with everyone's rugs.
Where do you find yourself in these emotional and exposé days, dear Christian?
I pray it is in His grace-filled, merciful Light of Truth which has the power to set you free and increasingly so.
~ Gracefully Free
1 Luke 19 (NIV) Also recounted in Matthew 21 and Mark 11
2 Matthew 23:25-28
3 Luke 19:46
Photo Credit: Tirachard Kumtanom from Pexels
©2019  Nancy Bentz │Wellspring of Life