Hello, dear Christian. I've wanted to properly introduce ourselves. Here, hold my Bible while I grab some nametags and labelists.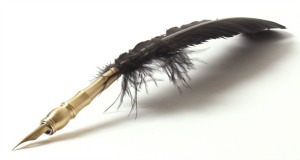 Ok, I'm back. Did you know, dear Christian, that progressive was in the vocabulary of the early Church? Whether they formally used the term (somehow I doubteth it) or not, they lived out the meaning of the word as they began, then continued their decision to follow Christ.
I'm a Believer
The first nametag in the progression by which the early Christians identified themselves was believer:
…and all those who had believed (Acts 2:44)
…and the congregation of those who believed (Acts 4:32)
…and all the more, believers in the Lord, multitudes of men and women, were constantly added (Acts 5:14)
There are plenty of whom it has been and will be said by the Lord, "they honor me with their lips, but their hearts are far from me." 1 I for one do not want that said of me. Do you? As progressive as we attempt to be in fueling the fire of Christianity, we stand on having etched on our nametag – "Hello, I'm a believer." Not in everything that comes down the proverbial pike, but in Jesus Christ who gave His life for me and for you.
The Beatles made it popular, but a heart-engaged I'm a believer remains untouchable by the labelists today, for they cannot take from you what is settled within you. They may try, but you decide to hold fast or cave in.
Are you a believer, dear Christian?
Disciples 'having been with Jesus'
Progressing along several more chapters in the book of Acts, it caught my attention many moons ago that the believers who pressed in and continued on in their allegiance to Christ Jesus now had the nametag of disciples.
…now at this time while the disciples were increasing (Acts 6:1)
…the word of God kept on spreading; and the number of the disciples continued to increase greatly (Acts 6:7)
In reading through Acts, it's not long before you realize scorn, mockery, accusation, torturous death, and persecution are side effects listed in the not so fine print. That reads like current headlines, don't you think?
A key event was the stoning of Stephen.2 The same day as his death by mob, persecution broke out against the church in Jerusalem and the believers scattered. The apostles who had been with Jesus remained behind, while the scattered ones went about preaching the word, ie. the Good News of the Gospel of Jesus Christ.
Now as they observed the confidence of Peter and John and understood that they were
uneducated and untrained men, they were amazed,
and began to recognize them as having been with Jesus.
(Acts 4:13)
Though many of Christ's followers were forcibly distanced, they remembered Who they believed and believed in. They were disciples not of an institution of brick and mortar, but of the living Christ. They could take Him anywhere, for He had replaced their heart of stone with a heart of flesh inscribed with His love and truth.3
We too are called to 'be with Jesus' if we desire to be filled with confident faith, hope, and love – and His truth.
Not as untouchable as believer, the labelists have a daily go at true disciples. But we have Jesus' own words:
"I have told you these things, so that in Me you may have peace.
In this world you will have trouble.
But take heart! I have overcome the world."
John 16:33
first called 'Christians'
Now we come to the bridge between Acts 11 and this present day. Remember the scattered Jewish believers resulting from Stephen's persecution? Turns out they were sharing the message only with other Jews as they traveled about. Some of them, however, began to speak to the Greeks as well, sharing the good news of Jesus Christ. Unless you are Jewish, this is where we Gentiles hail from as we identify ourselves as Christians.
It was there that …the disciples were first called Christians in Antioch. (Acts 11:26b) Who called them that? I don't know. It seems though that they didn't knight themselves with that label. But they must have liked it because it stuck. And rightly so, since it identified them – and us – with the One whose Name we have taken.
the 'labelists'
As for the labelists – I'll be honest. I've had to learn to separate the labelists from the labels, since everything Jesus bought and paid for on the Cross was for them too. Over years, I came to steadily despise labels. Oh, I know. We use them to identify many things, I get that. It's when we use them to identify God, ourselves, and others that we can too easily pick up the damaging, condescending, or contemptuous equivalent of a permanent black marker and strike it across our or others' nametag – whether it bear believer, disciple, or Christian.
The latest term used by a labelist that got to me (and truth be known, led in part to this post) was Christianist. The article was derisive toward those who hold to Christ-values. I have no reason to believe that the writer was a believer. However, how many of us might be caught with the label gun gripped securely in our own hands?
Call me old-fashioned, traditional, or out of touch – but the attempt to be relevant often has a biting edge to it that lands hard. The Spirit of Christ living within us Christians knows it, with His Spirit witnessing to our spirit that we are the children of God. It is not ours to lash out in return, but to learn to lean in to our Redeemer.
There are a lot of self-identifying religionists, but there is no 'ist' to a relationship with Christ. In my own life, there used to be too little understanding of what relationship with Christ really meant. When I began to fall in love with Jesus for who He is – to me and for me, a love for the written Word began to develop. If the labelists want to call me a biblicist, I'll gladly add that to my progressive nametag. Because what it really means is: in lieu of nametags and labelists,
I'm a believer.
~ Gracefully Free
1 Isaiah 29:13 │2 Acts chapters 6-7 relate Stephen's story │3 Ezekiel 36:26, II Corinthians 3:3
Photo Credit: Tirachard Kumtanom from Pexels
©2019  Nancy Bentz │Wellspring of Life