Since I'm not able to go home and crawl in bed, this one is hot off the headache press as a reminder to me – and to you – that there's a wound for that. And that's just an achy head. What about all the rest that hurts? Time for another letter of truth-love, dear Christian.
But he was pierced for our transgressions,
he was crushed for our iniquities; the punishment that brought us peace was upon him, and by his wounds we are healed.
Isaiah 53:5 (NIV84)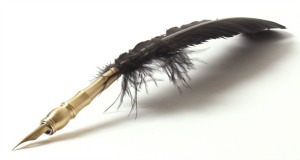 My husband and I work in the wounds business of the emotional, mental, physical, relational, and spiritual kind. Our office is a hospital of sorts for wounded bodies, minds, wills, and emotions. Chicken soup rarely suffices. As a result, we have learned that meeting "no good thing dwells in me" with "you're perfect just the way you are" is about as effective as putting a band-aid on a gaping wound in need of a tourniquet. Stat. Like those in the medical field can attest, we too encounter any number of reactions on the receptivity meter for what ails them – a need for the God who heals.
Years ago, while awash in our own wounds, we were challenged as to what we believed to be true about God.
We embarked (driven by pain, drawn by Him) on what, eventually, we figured out was a lifelong journey. If we were to survive, it was imperative that we come to grips with a few things (and ultimately, a ton more).
There is a reason Jesus told His disciples in John 16:12 that He had many more things to tell them (lay forth), but they were not yet able (fitted) to bear (receive, lift, declare, or endure) them now. He knew the world needed healing, not condemnation. And He also knew His disciples would not yet be equipped in Spirit and in truth to tell others there's a wound for that until they knew for themselves the reality of what He paid for on the Cross.
As two of His present-day disciples, we are enormously glad He didn't give us the whole picture thirty years ago.
Incompatible God?
I'm grateful for my habit of capturing inspired thoughts on sticky notes. Today is no exception.
"Behind every wound lies our current view of God."
– ncb
Oh my. Now that I think about it, though we didn't have those words for it, that pretty much comprised the challenge those decades ago. There was a definite sense of a spiritual gauntlet being thrown down:
Either we could remain in our woundedness; saturated in the pitiful, angry feeling that no one else could possibly understand what it was like to be me or us, including a God who was incompatible with our feelings –
Or we could rise to the challenge and put this 'incompatible God' to the test.
He's a wound healer. Pick one. Or two or twelve or a thousand, and He'll show you there's a wound for that. I don't think there is a greater, more genuine way to worship Him in Spirit and in truth than to let Him heal us.
Wounds Lie
Part of my headache is from an achy heart. It hurts my heart and strains my mind that so many, dear Christian, would rather nurse their untrustworthy feelings than trust their wounds to the One who heals, inside and out.
Wounds don't tell the truth because the truth is, behind every wound lies our current view of God.
We make Him out to be less than Who He is. We speak of Him as who He is not. We wish He would be what we want Him to be. However our wounds frame Him, they cannot belie the reality that there's a wound for that.
Please understand this. I am not saying your wounds did not happen, or that they do not go deep. What I am saying is that your God goes deeper still. To the source, to the infection, to the poison – to bring life once again.
Incognito?
In a world that is less than trustworthy in so many ways, throughout diverse social constructs and relationships, or lack thereof … there are those, dear Christian, who have as disciples of Christ, come to know the reality of His attending to their own wounds, healed and healing.
If you truly desire to come into healing but prefer incognito, then rise to the challenge and find one who knows the way to the One by whose wounds you are healed. Not were but are.
Life does not promise we will stop being wounded. Neither does God make such a promise.
Instead, He has already given us the promise fulfilled. His Son on the Cross so today, there's a wound for that.
In truth-love,
~ Gracefully Free
Photo Credit: Tirachard Kumtanom from Pexels │©2019  Nancy Bentz │Wellspring of Life