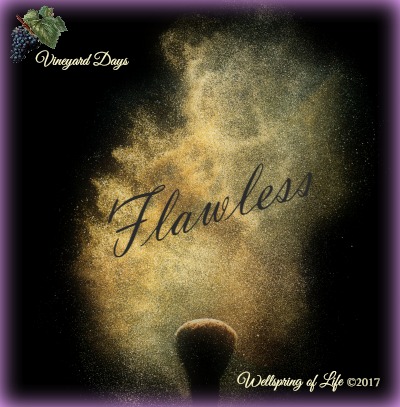 You are altogether beautiful, my darling; there is no flaw in you.
Song of Songs 4:7 (NIV)
Previously in Flawless –
What He is building is the wife of the Lamb, the new Jerusalem, the Bride of Christ.
She belongs to Him and He's about to lay claim.
***
In the first post of Flawless, I confessed I'd sat on Songs 4:7 for quite a while. Over a year ago I began to look deeper into the above verse, especially the second half of it – there is no flaw in you. I knew that I knew there had to be more to what the Bridegroom was saying in this verse and its placement in the Song. I'd been writing Vineyard Days for three years by then and was looking ahead to what was coming in the story.
Simultaneously I was seriously bugged over a popular worship song playing the airwaves. Though it was a song recorded by one of my favorite vocal groups, I found myself switching off the radio every time it came on. What it claimed was the same thing this verse says. There is no flaw in you. Lyrics don't lie, do they?
I wasn't buying it. My spirit was restless in an unsettled kind of way that will not be quieted until Holy Spirit witnesses to my spirit what is the truth of the Word of God – those precious pearls etched into my heart. Every time he adds another precious pearl to the strand, transformation is occurring in my heart and mind. Many of you bear witness to this process as well. Transformed by the renewing of your mind. (Romans 12:2)
By habit I went to Strong's Concordance to look up the word flawless. What I found elicited an undiscerning huh? So I looked deeper. That's when I sat back on my heels in minor shock and reluctance took hold. I did not want to bring this word. So I didn't. Which led to the seven-month hiatus of Vineyard Days.
Further, because I am well aware that things expressed can too easily be misunderstood or cause offense, I really didn't want to deliver Songs 4 verse 7. It was my hope that I could leave it alone and move past it to 4:8 – where the Song and the Shulamite segue once again to truths more exciting. Fat chance.
Holy Spirit, blessed Teacher that He is, was not going to let me off the hook that easily. He began to bring to mind truth He'd made sure I already owned, unfolded more and connected dots from the far past, recent past and present daily interactions.
This is not the long-ago Shulamite's journey seen through the lens of a steamy little story. It has been and still is my journey. And yours too. Each believer in Christ is found to be somewhere on the continuum in the progressive spiritual development revealed in the Song of Songs.
So what is it about Songs 4:7 that Holy Spirit restrained me from hiking past? Trust me. I strongly considered doing so.
He introduced me to Molid (mo-leed).
The dull huh? was my initial reaction to the verse that now read: You are altogether beautiful, my darling; there is no Molid in you. Revelation began with recognition that I already knew Molid.
We all do.
***
Every name has a meaning and Molid is no exception. His name means genitor, from a primitive Hebrew root yâlad (yaw-lad' ), which in its simplest form means 'to bear young' or 'beget'.
A genitor is a biological parent: father or mother.
Molid had both (as we all do in order to have been given our natural life in the first place). He is mentioned only one time in scripture, yet his essence flows throughout all 66 books of the Bible for his name also means 'to show lineage'.
I had never heard of Molid or heard anyone preach about him. He has never shown up in the writings of others I have read. Then there he was in the middle of the Song, chapter 4 verse 7.
And I almost missed him.
***
I Chronicles 2 begins with naming the 12 sons of Israel (who as genitors became the 12 tribes): Reuben, Simeon, Levi, Judah, Issachar, Zebulun, Dan, Joseph, Benjamin, Naphtali, Gad and Asher.
Reading down the generational list of begets (probably why I never noticed Molid, yawn) I came to verses 28 and 29 which record the following:
The sons of Onam were Shammai and Jada.
And the sons of Shammai were Nadab and Abishur.
The name of Abishur's wife was Abihail, and she bore him Ahban and Molid.
(ed. note: read humming to the tune of 'the knee bone's connected to the – shin bone…' ♫)
I cannot begin to go into the genealogical line here, but midway to Molid I ran into Boaz, Obed, Jesse and David. It took me back to Vineyard Days – Grafted In –
And there shall come forth a Shoot out of the stock of Jesse [David's father],
and a Branch out of his roots shall grow and bear fruit." (Isaiah 11:1; Romans 15:12)
Molid, as we follow down the line, is a descendant of the tribe of Judah. Meanwhile, the wife of the Lamb (the Shulamite) is being made ready.
We are not done with Molid. I sat on it for a year as Holy Spirit revealed more. I hope you'll continue as we unpack what it means to be seen by the Bridegroom as altogether beautiful, with no Molid in us.
~  Gracefully Free
Photo Credit: Gold Powder Makeup│annabelle breakey photography
Shammahs Field LLC/Shammah Ministries is the biblical counseling, life coaching, and spiritual growth ministry entrusted to Wayne & Nancy Bentz. You can learn more about the resources they have to offer at shammahsfield.com and nancybentz.com.