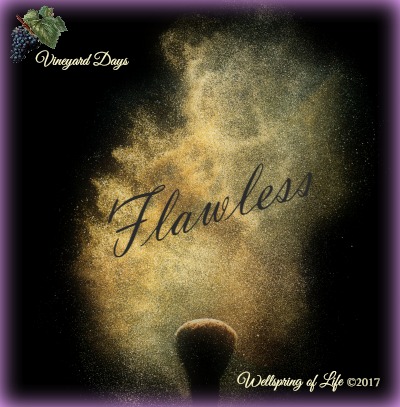 You are altogether beautiful, my darling; there is no flaw in you.
Song of Songs 4:7 NIV
It feels like I'm returning to a dearly beloved friend. If you have returned here too, welcome back.
Vineyard Days has been resting its field for the past seven months. When last we left the Shulamite Bride, Bridegroom Lover had painstakingly described the beauty He saw behind her veil (just click the link to refresh your memory and your heart).
Suffice it to say that plenty of 'life' has occurred since last July's (2016) post, followed by Ruby Vintage in September – the latest post in Vineyard Days prior to this extended absence. Though the progressive development of the Bride as portrayed in the Song of Songs has been on hiatus, the growth of the Bride of Christ has been continuing. She is not one who can or will remain stagnant. Not when the Lover of her soul has never recanted His intentions to bring her to maturity from the inside out; a continual wellspring from whence the river of living water flows.
Sometimes this bridal journey arrives at places where the river drops out of sight for awhile. It's not that it has stopped flowing. If anything, it is going to deeper reaches to drink of the Living Water that is the only remedy for the thirst that prevails in a dry and weary land. Including a vineyard in need of deep watering.
In the natural, the river that has disappeared from view eventually re-emerges farther on down the line. It knows where it is headed, however meandering or filled with obstacles and unexpected turns its route may be. Created with an internal compass, it flows to the sea – the largest multiplied body of water on the face of the earth.
Great similarity exists in the spiritual realm of the progressive fashioning of the Bride. She is becoming internally the outward expression of her life consumed in His life, in the midst of all life, for His name's sake.
A river's influence is notable not because it is called a river, but because of what the river is. It is life-giving water that changes the land it touches; sometimes with deep change of topography depending on its flow. Such is to be the influence and life-giving flow of the wellspring that resides within the becoming Bride, both individually and within the larger multiplied body of Christ.
For as the waters cover the sea, the whole earth will be filled
with the knowledge that the Eternal is glorious and powerful.
Habakkuk 2:14 – The Voice
It's time to resume this bridal journey where flawless is not just a welcome concept but rather, who we are.
***
In October 2014 I had a dream in the midst of earlier writings in Vineyard Days. It was not until eight months later in July 2015 that I wrote the post The Reluctant Bride. The dream even then pointed to her.
A short dream, it was telling in its brevity. A multi-layered message can be conveyed in moments.
In the dream I was desirous of powdering a woman's face. The woman seemed somewhat reluctant and instinctively drew back.
Noting her reluctance to receive the powdering of her face, nonetheless in the dream I saw it done. A perfect, beautiful, flawless 'landscape' on which to add more beauty.
After I awakened I jotted down a brief note to capture the few details of the dream. For more than two years that scrap of paper sat among other similar scraps and sticky notes on my desk. It had to wait until we reached Songs 4:7 – You are altogether beautiful, my darling; there is no flaw in you.
***
There remains more for us in the verses to follow that complete chapter four. However, there's more to the message of flawless to be shared before we continue on with verse 8 and following.
Join me next time for a post I have sat on for a year, largely due to my own reluctance to deliver it (See? There really is a reluctant bride). The rock of offense has a tendency to cause stubbed toes if someone is inclined to kick against it. All I can say is, Holy Spirit has picked now to re-emerge this river and pick up the flow again.
As for the dream, I know it is a picture of the Lord's desire that His Bride be foundationally prepared and readied – for His beautifying touch. He desires beauty in His Bride, above and beyond what we could ask or think…or sometimes unwillingly welcome. His touch awakens senses that at times prefer to slumber.
Yes, the Bride will engage much and be used mightily. Still, I have no doubt the Lord is in a season of His landscaping business, with His current lively stones being prepared to fit together with those gone before.
What He is building is the wife of the Lamb, the new Jerusalem, the Bride of Christ.
She belongs to Him and He's about to lay claim.
~  Gracefully Free
Photo Credit: Gold Powder Makeup│annabelle breakey photography
Flawless, Part 2
Flawless, Part 3
Flawless, Part 4
Flawless, Part 5
Shammahs Field LLC/Shammah Ministries is the biblical counseling, life coaching, and spiritual growth ministry entrusted to Wayne & Nancy Bentz. You can learn more about the resources they have to offer at shammahsfield.com and nancybentz.com.