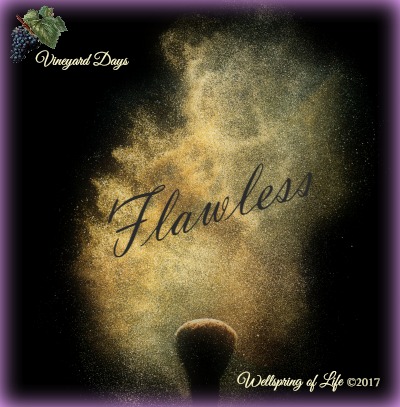 You are altogether beautiful, my darling; there is no flaw in you.
Song of Songs 4:7 (NIV)
Bless you for returning. Part 4 was delivered seven weeks earlier. In that pause of weeks – while other life, commitments and attention was required elsewhere – Faithful and True was busy being just that. Our Bridegroom King sees to it that our 'waiting moments' of life are not wasted when we are in pursuit of His heart. Instead, they become choice ingredients designed to aid our growing out of Molid and into a Bride.
These are our Vineyard Days.
I encourage you to read Part 4 afresh. If new here, Parts 1, 2, and 3 frame this Molid mini-study.
***
Lately my husband and I have been surrounded by stories of and references to adoption. It's quite uncanny (and no, I don't believe in coincidence) how the message of Vineyard Days continues to be lived out in real time. The past seven weeks have proved that to be true once again…
We've witnessed, read or heard of at least five different adoption issues in our life circle alone. Each of the five stories elicited a different response. Everything ranging from 'are you kidding me?!' (with the appropriate amount of irritated angst); to such deep-hearted joy that I cried right there in the restaurant hearing and seeing pictures of a reunion with a birth mom and family 50+ years later; to feelings of tenderness over the precious story behind a new little one being added to a waiting, grateful family; to deep sighs over how the concepts of 'receive' and 'change' are not welcome in some adoptees' vocabulary. We saw and heard both how incredible the gift and how void of life-giving understanding adoption can be.
Enter Molid again. In all his glorious, wonderful, depressing, disappointing, joyful, disillusioned (and many more) ways he has of showing up in the family trees populating the earth.  Yet, Elohiym chose adoption as the vehicle of grace for each believer who has become a child of God that we might be sons of God.1
***
In Flawless, Part 4 we noted that Jesus was 30 years old when at his baptism his earthly paternity was overshadowed by his true Paternity, his Abba Father whose Holy Spirit overshadowed Mary at conception.
Brain science today is proving the veracity and accuracy of Holy Scripture. We now know that the brain is not considered fully developed until a young adult reaches at least their mid-20s and even into their 30s. Though there is plenty of scriptural study one can do on the meaning of the number thirty that expands our understanding even more, I find it very interesting that Jesus' heavenly Father announced Jesus' true identity at the age of 30. The act of adoption in biblical times and Eastern culture was a recognition of mature sonship in the family. Jesus was not adopted at birth but at the time set by His Father. 2
Beloveds, in our spiritual economy it is no different. Scripture is full of training and instruction for our development as one who is no longer left to live a Molid-driven life, but to be transformed by the renewing of our minds. I love that the word transformed means in Hebrew, transfigured. Remember in part 4 that it was not just at Jesus' baptism but also at His transfiguration that His Father announced, "This is my Son, whom I love; with him I am well pleased." 3
The renewing of our Molid-minds is not just to 'who we are' on paper (where it sounds and reads good in black ink on white pages in our Bible) but in the very transfer of the government of our life over to the One who has paid the full ransom for us. We are not our own, my friends. We have been bought with a price. 4
Being transfigured 'from glory to glory' is the Lord's ongoing promise as we seek and obey Him. In hope, by faith with the simplicity of a child but which is oh so hard for an adult.
I think that's why Jesus said unless we become as a little child we will never enter the kingdom of heaven. 5
We will always be someone's child in the natural. We choose to become Someone's son in the Spirit. It comes down to who or Who we ultimately choose to place first in our life, one choice at a time. Our love flows accordingly.
Jesus himself listed the many and varied relationships that would vie for continued 'governing' of our life while He declared that any of those we love more than Him makes us unworthy of Him. Powerful words.
He knew whereof he spoke for the Molid way of thinking was alive and well in Jesus' day. It still is because Molid's very nature is a genitor (father or mother) – 'to bear young' and 'to show lineage'. To choose to give our life wholly and fully to our heavenly Father, who in His faithfulness will see that we mature to adoption stature, is disruptive to a Molid-driven family. To the degree we have grappled with the issue of Molid inherent in our families – even when we didn't know his name – we understand in part those hard sayings of Jesus shared in previous Flawless posts.
As for the Shulamite, a model of our spiritual development in becoming the Bride of Christ, there is yet more to this love story in the Song. More about growing out of 'the Molid way' through the renewing of our mind and into a bridal army with a willing and responsive spirit to the One to whom we owe our very life.
To carry His authority into the spiritual battle we're in is to bear in our flesh the very nature of His Name.
"Altogether beautiful (wholly, through and through) with no flaw (Molid) in you."
Stay the course, dear Shulamites.
~  Gracefully Free
1 Galatians 4:4-7; Romans 8:14; Galatians 3:26
2 Galatians 4:2
3 Matthew 17:5
4 I Corinthians 6:19-20
5 Matthew 18:3-4
Photo Credit: Gold Powder Makeup│annabelle breakey photography