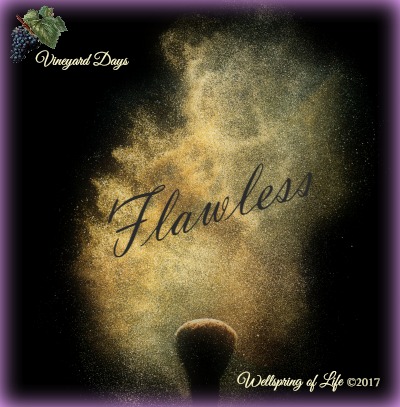 Thanks for returning from Flawless, Part 2 as we unpack, to a small degree, what it means to be seen by the Bridegroom as altogether beautiful, with no Molid in us.
 ***
After being introduced to Molid tucked in the middle of the Song, the year that followed was one of fine-tuning the optics of my understanding to the precision of the Word. Again. If you are one who desires to press more deeply into the heart of the Beloved, one of the gifts you'll receive is a fresh awakening, courtesy of Holy Spirit, to the truth and life of the Word of God as it flows from Genesis through Revelation.
Vineyard Days has been like a well-watered oasis in the midst of a lifelong journey. It is here, focused on Jesus' heart of instruction in John 15 and its relation to our own spiritual development modeled by the Shulamite in the Song of Songs that the past, present and eternity converge.
To have the eyes of our understanding enlightened to the hope of His calling and inheritance in us1 is nothing short of miraculous. This is life beyond the Cross. Available to everyone, yet not embraced by all. Why is that? Any way you slice it, it has everything to do with what and who we choose to gaze upon.
It's not the Bridegroom who has a vision problem. The Bride, however, needs serious Lasik surgery.
***
We are born into and live in a Molid world. The offspring of genitors (biological parents), their very DNA is in our blood. We may look, sound or carry ourselves just like our father or mother, whether we're aware of it or not and even if we never knew them. It's true. The nut really doesn't fall far from the Molid family tree.
In the life of the believer, though, there is another Family tree. Before you sigh and tell me 'I learned that in spiritual Kindergarten!' be prepared for a dry 'really?' Some Kindergarteners are 30, 40, 50, 60, 70, 80 or 90 years old. If we haven't 'gotten it' yet, we haven't gotten it. If we're still breathing, we can still get it. If it remains all about us, then, for us, it is not yet all about Him.
It's the difference between flawed and flawless. Molid'd and no Molid in you.
And the words of the LORD are flawless, like silver refined
in a furnace of clay, purified seven times.
Psalm 12:6 NIV
There is no Molid in the words of the Lord; His words are pure. This furnace of clay is all too aware of how much dross is involved in Molid living. Years ago when I discovered that the biblical references to silver and gold spiritually speak of Elohiym's righteousness and nature, respectively, I've never considered silver and gold in our Molid world in quite the same way.
Christians like to get their righteous robe on and with good reason. Filthy robe dunged up by sin traded out for His righteous one. I call it The Great Exchange. What's not so great is when the realization / conviction hits that the thoughts and intents of the heart beating beneath His now our own robe of righteousness also need to undergo The Great Exchange. Boy oh boy, it's hot up close and personal to that furnace. Thank God for salvation! One purification is enough.
Not for the Bride. She will be purified seven times in the furnace for no trace of Molid to be found in her.2
Meanwhile, one of the greatest lessons our Shulamite Bride-to-be had to learn is that every word the Beloved was speaking to her was pure and clean. Unadulterated, unpolluted, untainted. Faithful and True.
To the degree our heart cannot or will not hear and receive our Beloved's pure words, to that degree we still possess the Molid way of thinking. The Molid belief system. The 'Molid way'. We have it memorized.
When the Bridegroom comes to us from out of the desert like stately pillars, it's because He has a Bride on His mind to whom He's about to lay claim. But only if she'll have Him. The corporate Bride of Christ is every individual who has made this furnace-purified journey deep into His heart. The choice still belongs to us:
Love and follow Him from a distance while rooted within and without by one's Molid family tree. Or, sink one's roots deep into the truth of what it means to be grafted in to the True Vine. Our other Family tree.
***
When Jesus – Himself the pure Word – lived in the flesh, He spoke truth that two millenia later believers still have a problem with. As a result of our Molid-influenced way of thinking, Christians have gotten pretty good at cherry picking, preferring the pits over what Jesus' sweet-tart ministry messages were inferring.
He offered alternatives and said things that fly in the face of our Molid-driven lives. Things like:
"Follow Me, and let the dead bury their own dead." Matthew 8:22 NIV
As they were walking along the road, a man said to him, "I will follow you wherever you go."
Jesus replied, "Foxes have dens and birds have nests, but the Son of Man has no place to lay his head."
He said to another man, "Follow me." But he replied, "Lord, first let me go and bury my father."
Jesus said to him, "Let the dead bury their own dead, but you go and proclaim the kingdom of God."
Still another said, "I will follow you, Lord; but first let me go back and say goodbye to my family."
Jesus replied, "No one who puts a hand to the plow and looks back is fit for service in the kingdom of God." Luke 9:57-62 NIV
He replied to him, "Who is my mother, and who are my brothers?" Pointing to his disciples, he said, "Here are my mother and my brothers. For whoever does the will of my Father in heaven is my brother and sister and mother." Matthew 12:48-50 NIV
Do not imagine that I have come to bring peace to the earth. I did not come to bring peace, but a sword. I have come to turn men against their fathers, daughters against their mothers, and daughters-in-law against their mothers-in-law. You will find you have enemies even in your own household. If you love your father or mother more than you love Me, then you are not worthy of Me. If you love your son or daughter more than you love Me, then you are not worthy of Me. If you refuse to take up your cross and follow Me on the narrow road, then you are not worthy of Me. To find your life, you must lose your life—and whoever loses his life for My sake will find it. Matthew 10:34-39 The Voice
Please don't shoot the messenger. His own already crucified Him. I am thankful He is Alive so you and I can make the choice to take up our cross or refuse it while it is still our choice to make.
Know this, though. It's a decision whose worth is far above rubies. It includes the silver of purified righteousness and the gold of His nature and character. A bride worthy to be the wife of the Lamb.
A wife of noble character who can find? She is worth far more than rubies.
Proverbs 31:10 NIV
We're far from done with Molid. The good news is that our Beloved is far from done with us. There comes a time as we continue to press into His heart, that the hard sayings of Jesus become the words of life we cannot live without. We awaken to the fact that there is nowhere else to go.3
So our heart points in the direction of Love.
~  Gracefully Free
1 Ephesians 1:18
2 The other six will be briefly written about in later posts. Patience is a virtue ♥
3 John 6:68
Photo Credit: Gold Powder Makeup│annabelle breakey photography