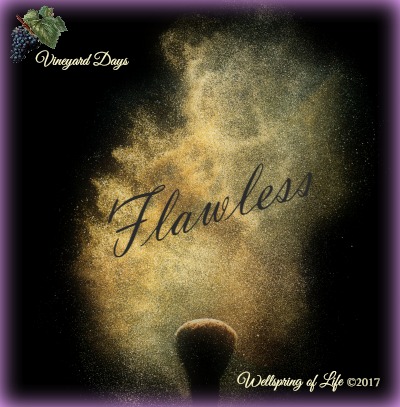 You are altogether beautiful, my darling; there is no flaw in you.
Song of Songs 4:7 (NIV)
Flawless, Part 3 was filled with some of the most difficult to comprehend of Christ's hard sayings. A speaking the truth in love that tempts believers to rethink this God they say they know and love.
Like the Shulamite, many of us are caught in the cross-fire of heart and brain. How in the world do you make sense of these statements Jesus makes that boldly infer ditching one's family, when you can point to I Timothy 5:8 and say 'see?' – Anyone who does not provide for their relatives, and especially for their own household, has denied the faith and is worse than an unbeliever.
From personal experience I attest it is part and parcel of the refining process designed to move us from Molid's cherry picking ways into the whole counsel of God. My prayerful hope is to bring some conclusion in Part 5.
***
Before we proceed further with Flawless, Part 4, for those who may still be wondering who the heck Molid (Mo-leed) is, let me assure you biblical Molid had a real live dad whose name, Abishur, means father of the wall, with reference that perhaps he was a mason (bricklayer). As well, Molid had a real live mom, Abihail, whose name interestingly also means father but with the description of a possessor of might. Abihail was the name of three Israelites and two Israelitesses, Molid's mother obviously being one of the two women bearing the name. Molid also had an older brother named Ahban, whose name means possessor of understanding. ~ Selah (think on all this awhile).
The meaning of Molid's name again? Genitor, which means beget and specifically to show lineage. If you unpack it further in the Hebrew it has everything to do with birthing of life: to act as or do the office of a midwife; to bear and bring forth children; be delivered of a child; bring up; declare pedigrees; and be the son of a woman in travail – among other definitions including gender, calve and hatch!
Yes, I know it quickly gets mysterious. Yet from the beginning of Jesus' ministry and His ultimate sacrifice (in finality of the blood of bulls and goats and birds 1) – He made it clear that the life He willingly gave then took up again was for the restoration of His Abba's plan all along: a family with whom Elohiym could live and move and have His being – in spiritual offspring that would come to resemble Him in every way. Flawless. With no Molid in them.
***
Jesus, Bridegroom of the becoming Bride, knew what it was to live as spiritual offspring in a Molid world. In a nutshell, Jesus' birth, early life and reaching adulthood (at the age of 30, more in Part 5) laid out the pattern for us who as believers in Him are now spiritual offspring living in a Molid world in our generation.
Up to and at the time of Jesus' baptism 2, He was regarded by the majority as the (illegitimate) son of Mary and Joseph. When his Father spoke from heaven as Jesus came up out of the water, "This is my Son, whom I love; with him I am well pleased," it signaled a change in Jesus' earthly life. He was adopted that day.
Our Western understanding of adoption is quite different from the biblical understanding of adoption and Eastern custom.
The practice of adopting a child from a birth parent (another Molid family tree) and raising that child as one's own, complete with the family name is one with which we are well familiar. It is a picture of unselfish love when babies and children are adopted into family units who care and want to raise them as their own. Their environment is changed and they live out their adoption by adopting many family characteristics. Life in the family exposes them to influences and attitudes, but the traits of heredity remain because adoption has no effect on changing their bloodline.
The other side of the coin reveals a sad reality that sometimes the adopted are taken into homes with less than honorable or downright evil intent. Somewhere in the middle are the ones who are well-provided for but never feel complete, as though an intangible part of their identity is missing.
It's the Molid way. Not the way of the Father, evidenced by His pronouncement of Jesus' true Paternity. Not once but again as Jesus went to the mount of transfiguration.3 What is this way?
In biblical times and culture, the Romans and Greeks practiced the same understanding of adoption. They did not adopt someone from outside of the family, but adopted only sons born to them. There were two parts to the process: the son had to grow to maturity and be equipped to responsibly bear the family name.
At that point he was declared (remember the meaning of Molid) to be a son by his father. That declaration then made him an heir of the family estate. The act of adoption was a recognition of mature sonship. 4
Adoption did not take place at birth but at the time set by his father (Galatians 4:2). So Jesus was born into a Molid family tree – which is all most others saw of Him – even as from a child He "grew in wisdom and stature, and in favor with God and men." (Luke 2:52) Jesus was required to grow to maturity that He might become not only the child born to us, but the Son of Isaiah 9:6 that "is given" to us.
After His baptism Jesus was immediately driven into the testing wilderness of temptation and overcoming. It should be enlightening to note that it was after Jesus' true bloodline was declared by His heavenly Father that the wilderness was His next place of engagement.
All that followed in His three years of ministry, even as He continued His journey to the Cross, flowed out of absorbing His Father's spirit and heart, vision and purpose as His own. The key (which He desires in our life) was Jesus' desiring to please His Father in all things; to the point that He told His disciples, "The words I say to you are not just my own. Rather, it is the Father, living in me, who is doing his work." 5
Jesus had to be qualified in his life to run his Father's business. He didn't just know what He was to be about; his response was to remain in the time of qualifying out of love for His Father 6 – like Solomon's company of horses. Jesus didn't determine when the qualifications were met; His Father did. As a result, He was made ready for His next stage – Abba's mission and purpose carried out as Jesus' unveiling began.
We are still in the midst of Vineyard Days – a season of mercy in this age of grace.
Join me next time as I close Flawless, Part 5 in prayerful attempt to give honor where honor is due.
~  Gracefully Free
1 Isaiah 1:11, Hebrews 10:4, Genesis 15:9-10
2 Matthew 3:11-17
3 Matthew 17:5
4 Galatians 4:1-2 (the whole of Vineyard Days holds to Galatians 3:26-28 – For you are all sons of God through faith in Christ Jesus. For all of you who were baptized into Christ have clothed yourselves with Christ. There is neither Jew nor Greek, there is neither slave nor free man, there is neither male nor female; for you are all one in Christ Jesus. Expressed in The Way of the Beloved)
5 John 14:10, 6:28
6 John 15
Photo Credit: Gold Powder Makeup│annabelle breakey photography