May 2, 2010 to May 2, 2018 …
"Wellspring" Eighth Anniversary & Birthday Edition
Rielyn & Wellspring are celebrating again!
As I pondered what to pen for this eighth anniversary of Wellspring of Life, I was re-encouraged (which I needed) while tearing open sauce packets for a south of the border breakfast at the office.
One of the countless reasons I get so much pleasure out of life with Jesus is that his Holy Spirit will use whatever He wants to deliver a message to me. On the most blah of blog days, He knows how to coax a grin out of me 🙂
Since Wellspring of Life has been – long before I termed it that way – a teaching blog, this year's eighth anniversary post is meaningful. (Yes, you get a biblical numbers lesson again because) eight is the number of new beginnings. And since the Lord knows our thoughts, He is more than aware that I sit at a writing crossroads these days. To make His direction ever so plain, He tucked a little mariachi band in my takeout bag –
♪ Just the beginning, Just the beginning ♫
It has a nice little maracas rhythm to it, which He knew I would respond to coming direct from Him.
The other two sauce packets had varied other ditties, but The Word was true to His own pattern, whether written in the Bible or stamped in orange on Taco Bell hot sauce packets: said once, said twice = pay attention. I got the message.
Rather than excusing me from writing, or granting a longer siesta from Vineyard Days or anything else shared in Wellspring, He spiced things up with an unmistakable double dollop of hot sauce #8.
Soooo, while developing fruit in the vineyard has gone on for five years now, second winds do happen. Especially when it's Holy Spirit wind breathing on you (or down your neck…)
The Lord is especially fond of the covenants He makes. Or that are made with Him, like Wellspring. Eight years' traversing later, we have arrived at ♪ just the beginning, just the beginning ♫
Stay tuned. Stay tuned.
Meanwhile, there's an eighth birthday!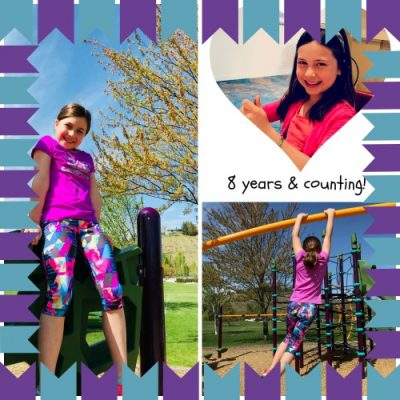 The lifespan of Wellspring thus far has been accompanied by the expanding growth and development of our granddaughter Rielyn, who has been joy'ing up our life for eight years now!
Her personality and evidences of her natural gifting bubble up regularly. This former executive assistant grandma has chuckled more than once over Rielyn's accoutrements of bling and clipboard. Both important, mind you. You can look good while you're organizing everyone's lives 🙂
Meanwhile, as 'the vineyard' has been going through its annual seasons of preparing the soil, fertilizing, watering, catching little foxes, supporting, pruning, and gathering fruit – Rielyn has budded through similar how to grow a life care.
Her parents are personal vineyard keepers on the journey of discovering all that goes into raising her up, along with her big brother, our oldest grandchild/grandson. The same can be said for the raising of our two youngest grandsons by their mama and dad, as well. These are the exhausting and rewarding years.
Healthy activity and deep nurture is always on the docket, doled out in these family-raising years that demand occasional naps in the midst of blah or hair-raising days (whether it's the kids, mom, or dad taking a nap is interchangeable as required). Rielyn's been reported to have taken herself off to bed unannounced when there's just been too much day in her life. I'm with you, Rielyn…a well-timed face plant on one's pillow can make the prospect of tomorrow more shiny. Even the vineyard rests at dusk.
No matter who or what you are called to raise up, Wellspring of Life in general and Vineyard Days in particular is dedicated to the increase of healthy spiritual growth and development that God brings forth as His abundant life in the hearts, minds, and lives of believers who have chosen to trust in Him, by faith.
To that end, I still hold you the reader in my heart as I join my prayer with the apostle Paul's:
Open the eyes of their hearts, and let the light of Your truth flood in.
Shine Your light on the hope You are calling them to embrace.
Reveal to them the glorious riches You are preparing as their inheritance.
Let them see the full extent of Your power that is at work in those of us who believe,
and may it be done according to Your might and power.
Ephesians 1:18-19 The Voice
Happy Birthday, dear RJ as we celebrate you and Wellspring of Life's birth! You're both beautiful.
Bridegroom King, none is so beautiful as You. With one glance of Your eyes, You hold me captive. Thank you for never letting me go. Surely beneath this wellspring are Your everlasting arms.1
Grandma Nanc & Gracefully Free
1 Deuteronomy 33:27
Shammahs Field LLC/Shammah Ministries is the biblical counseling, life coaching, and spiritual growth ministry entrusted to Wayne & Nancy Bentz. You can learn more about the resources they have to offer here at shammahsfield.com and nancybentz.com.