It's been nearly two years since I introduced Persuaded Heart as a stand-alone post with potential of growing into a Wellspring series. I'd like us to revisit the original post, because two observable things have happened in the past 21 months. One, Persuaded Heart sat as a watchman at its post the rest of 2021. Then, being told by Holy Spirit to get jiggy with it on the writing again, this heart was persuaded the Spirit of Truth wanted to go after the legitimacy lies none of us get a free pass from dealing with if we are honest about the living Christ as our identity.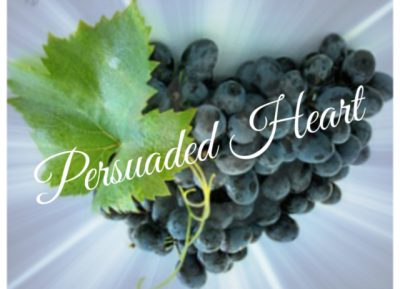 "Legitimacy lies, meet Truth."
Our proclamations of "I am legitimate when…" countered by Jesus' "I am…" pits the very Truth embodied and spoken in love (Christ's identity) against our ingrained idea that when I do or have this, then I am legitimate.
The truth is, we are legitimate because God loves us; designed by Him to draw our legitimacy from Him alone. It's the day and night difference between constantly needing to be affirmed, and knowing you are loved by Him.
Our mental thought processes get caught in mind games that display outwardly, when what has never changed is that God is still eternally purposed to effect transformed hearts in His children. He knows a heart transformed by renewing the mind (Romans 12:2) will change how we view our identity and what we will choose to believe going forward. The redemptive processes He journeys us through involves exchanging the pattern of the world for His pattern.
Having written several previous Legitimacy Lies posts, it is time to visit the core ways we identify ourselves when our human spirit has been wounded, left undeveloped, been shut down, and/or marginalized. The seven legitimacy lies statements drawn from the Redemptive Gifts Lexicon are listed below by title of each grace gift.
In the New Covenant when Jesus made His seven "I am" statements found throughout John's gospel*, He used the Greek word egoeimi, which means "it is I." He clearly identified Himself by who He is, not what He does. His ego in the flesh of humanity was exquisitely healthy and vibrant, full of abundant life then and now for our egos.
Legitimacy Lies & Jesus – the Identity Statements
Prophet:
"I can solve my own problems and fix things better than God. I am legitimate when I fix things."
Jesus: 1 "I am the bread of life. He who comes to me will never go hungry, and he who believes in me will never be thirsty."
Servant:
"I am legitimate when I build a platform of success under others." (This is a savior mentality.)
Jesus: 2 "I am the light of the world. Whoever follows me will never walk in darkness, but will have the light of life."
Teacher:
"I know the truth, and it gives me power. I am legitimate when I have complete and accurate information. I am legitimate when I am right or have knowledge."
Jesus: 3 "I am the gate; whoever enters through me will be saved. He will come in and go out and find pasture."
Exhorter:
"I am legitimate when people want and need to be around me."
Jesus: 4 "I am the good shepherd. The good shepherd lays down his life for the sheep. I know my sheep and my sheep know me."
Giver:
"I can provide the resources for others to possess their birthright. I am legitimate when I am needed by my family." (This can create co-dependency.)
Jesus: 5 "I am the resurrection and the life. He who believes in me will live, even though he dies…and whoever lives and believes in me will never die. Do you believe this?"
Ruler:
"I am legitimate when I am over people, and I have institutional authority."
Jesus: 6 "I am the way and the truth and the life. No one comes to the Father except through me."
Mercy:
"I am legitimate when I have earned God's or people's favor through self-sacrifice."
Jesus: 7 "I am the true vine, and my Father is the gardener."
There will be more that follows. Here is laid a table whereby Christ offers Truth that turns stones into bread.8
Gracefully Free
*1 John 6:35 2 John 8:12 3 John 10:9 4 John 10:11,14 5 John 11:25 6 John 14:6 7 John 15:1 8 Matthew 4:3-4
For more on identity, legitimacy lies, and God's design of us in His image and likeness, visit the Persuaded Heart category and nancybentz.com for the growing suite of Redemptive Gifts articles and helps
©2022 Nancy C. Bentz – Author's permission granted to forward this devotional piece in its entirety, including this copyright line. For more devotionals, to leave a comment, or to subscribe to this blog, visit Wellspring of Life